During December, highly scalable blockchain Near and its underlying asset has experienced an important rally. Coming in hot from a monthly low at around $6, the NEAR token currently trades at $15,37, close to its all-time high north of the $16 mark.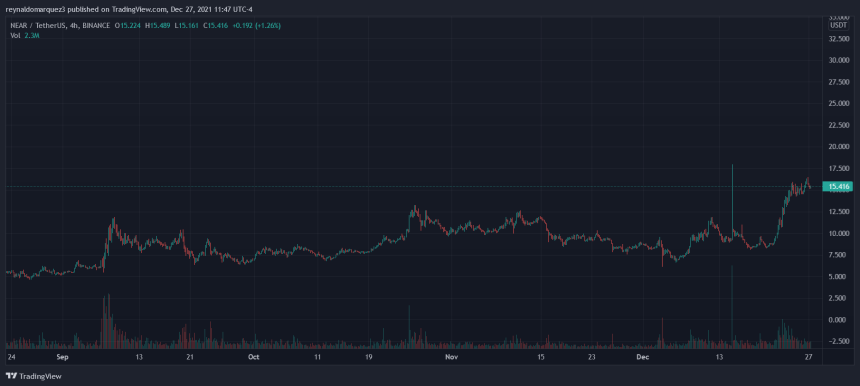 In the past 7-days, according to data from Coingecko, NEAR has record a 71.5% rally and an 87.4% increase in the last 30 days. The team behind the protocol has been announcing improvements and partnerships that have contributed with this token's trend to the upside.
Related Reading | LUNA Hits ATH After Astroport's Deployment, Why Terra Could Continue Growing In 2022
Terra's UST stablecoin integration with NEAR and the Aurora ecosystem has been a highly expected event by users. Per an official post, the integration was facilitated by a partnership with NearPad, an Aurora DeFi gateway, and Rose, a liquidity and stableswap borrowing protocol running on the same ecosystem.
The team behind NEAR believes the partners will be able to strengthen the Terra ecosystem and stablecoin UST as they become more adopted on Aurora. In that sense, users will have several new use cases that will be able to leverage including moving assets from Aurora to Terra or any other compatible blockchain.
Users will be incentive to participate and to provide UST liquidity on the aforementioned ecosystems. Aiden Knox, founder of NearPad and Rose claimed the following on this integration:
Partnering with Terra to bring UST to ecosystem to our community will be a big step towards growing the Near and Aurora ecosystem. I'm excited to be working closely with the Terra team to not only bring UST to NearPad and Rose, but also for the deeper integrations and collaborative projects this partnership enables.
NEAR To Support One Of The Fastest Growing Stablecoins
The Near protocol has been working on its interoperable capabilities as the project aims to support a "multi-chain future". In that way, users will be the most benefits as more use cases, and applications become accessible, and they can reach any asset or projects in different networks. Co-Founder of NEAR Illia Polosukhin said:
NEAR has been built for simplicity, security and scalability. Stablecoins like UST provide a simple interface to store value and interact with apps which need to use a stable unit of account.
Recently, the Terra ecosystem implemented several major upgrades on the mainnet with provides it with interoperability, and a burning mechanism for its underlying asset, LUNA. As NewsBTC reported, this network has taken the crypto industry by storm.
Related Reading | Terra Begins LUNA Burning, Why It Could Target $140
In addition, Do Kwon, one of Terra's founders, recently celebrated the expansion in UST as the stablecoin reached a $10 billion market cap. Thus, it has become the largest decentralized stablecoin which demonstrates, according to Kwon, that "there is no more doubt in the product market fit".
Congrats to @terra_money on reaching $10bn outstanding. Amazing achievement, but will seem small compared to what will be accomplished in the coming years.

Long live decentralized stablecoins. Long live @terra_money. https://t.co/3Uz2ZYFAWz

— Peter Johnson (@TheChicagoVC) December 26, 2021