They say the bigger they come, the harder they fall, and DeFi sure fell hard during this market dip. With that, NFTs have suddenly become the next big thing.
NFTs are unique tokens that are not interchangeable as a result of their distinctive characteristics. As "one-offs," the idea of investing in NFTs is gaining ground.
"They are ERC-720 compliant, and have been mostly used in the storage of crypto-collectibles such as arts; providing a means of proving authenticity and ownership, and in crypto gaming. Non-fungible tokens are tokenized versions of digital or real-world assets."
The concept first rose to prominence in 2017 with the game CryptoKitties. The idea behind it was to collect the most sought after kitties, as represented by NFTs.
As users could breed and sell digital cats, the game gave rise to transactions worth tens of millions of dollars. What's more, during peak CryptoKitties mania, network traffic became so congested it crashed the Ethereum blockchain.

Source: cryptokitties.co
However, rather than gaming collectibles, this time around, it's digitized art that's going to be big.
Bitcoin Bull Anthony Pompliano Bets Big on Digital Art
In the latest installment of The Pomp Letter, Anthony Pompliano gives his take on NFTs as an investment strategy.
Selling the concept, Pompliano talks about doing what others are not. With that, few consider digital art a viable investment strategy, even though the sums involved in real-world art are massive.
"The world's wealthiest people have been acquiring art for decades, whether it was for store of value, capital appreciation, or pure creative and intellectual stimulation. Regardless of your personal experience with traditional art, the numbers are absolutely staggering"
Going deeper, Pompliano pushes the idea further by saying traditional art has limitations such as it being fragile, static, and motionless, as well as difficult to transport. At the same time, digital art is none of these things.
"Each piece can incorporate complex movement and motion into the art. A single screen on a wall can periodically cycle through different pieces of art at the predetermined direction of the homeowner or art collector. The digital art can be sent to anyone in the world with a few clicks of a button, it is immune from damage, and authenticity and provenance is transparently available for anyone to verify."
Putting his money where his mouth is, Pompliano, and his partner Jason Williams has commissioned several artists to produce digital artwork.
Their first reveal is the piece "The Innovator's Dinner" by FEWOCIOUS.
In a nod to Leonardo da Vinci's "The Last Supper," it features a pop art style depicting several famous innovators. This includes Benjamin Franklin, Henry Ford, Amelia Earhart, Walt Disney, Steve Jobs, Elon Musk, Beyonce, Jay-Z, Dr. Dre, and Malala Yousafzai.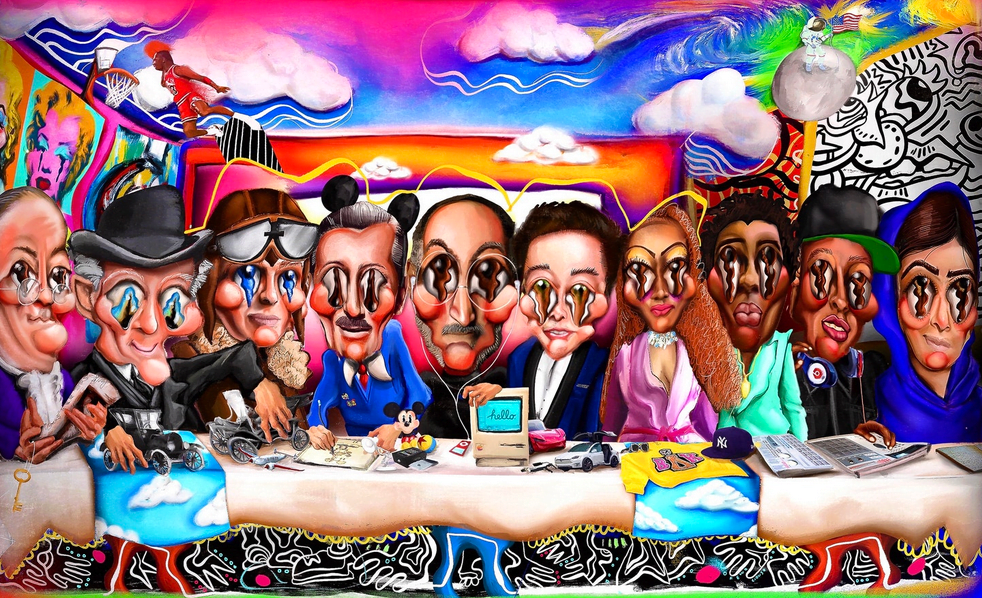 Source: pomp.substack.com
Wait, Non-Fungible Tokens as an Investment is a Thing Now?
As logical as Pompliano's argument is, the concept of digital art still divides opinion. The primary reason being, anyone can copy a digital art piece.
However, one Twitter user summarized the counter argument by saying it's the ownership rights that make digital art valuable. He even went on to suggest that copies lack the authenticity portrayed by the artist.
"You can print Mona Lisa" is a bad argument. The only thing makes NFT arts different from copy ones is the ownership on blockchain. Besides that, they are all the same. Is the value of Mona Lisa comes from its ownership? Can you print Mona Lisa with all the details? You decide."
All the same, aside from ownership rights, it's difficult to argue that a copy of a digital art piece is not exactly the same as the original.
Can digital art overcome this fact? The jury's out on that one.