De Cecco, the world's third-largest producer of pasta, becomes the latest firm to join the VeChain ecosystem by adopting the My Care methodology.
It becomes Italy's first major food manufacturer to integrate the solution.
Source: twitter.com
VeChain Provides Solution to Pandemic Fears
The company's adoption of My Care is a strategy designed to counter the risks of contagion arising from the pandemic situation.
According to Google, worldwide deaths have reached 692k, and the number of new cases in the last two months is continuing to rise.

Source: google.com
With that, actions to mitigate exposure, via food, brings a sense of reassurance for many.
Quality Manager at De Cecco, Vincenzo Ponte, spoke about the many process changes that have occurred since the breakout. But despite the uncertainty, he remains adamant that adapting to new methodologies is essential in keeping everyone safe.
"In recent months our priority has been to create a safe environment for all our collaborators and operators… we have adapted our management systems and our operating methods in such a way as to always be in line with the various governmental provisions that have followed over time."
My Care is administered by risk management and quality assurance company DNV GL, who purchased a stake in VeChain in May 2018.
On the acquisition, DNV GL CEO Luca Crisciotti said that the relationship was a win-win for both firms in that it allowed VeChain to expand its fledgling technology, at the same time, gaving DNV GL a foothold in digital assurance.
"VeChain has helped us realise our digital assurance ambitions through the launch of new revolutionary assurance products in the market. The acquisition of a stake in VeChain is a natural progression of our relationship and the investment will allow us to transform our existing business model and bring Digital Assurance to a wider audience, including consumers."
DNV GL offers a range of services including in advisory, certification, data and analytics, and inspection.
What is My Care?
My Care is a service provided by DNV GL that gives an independent assessment of infection risk management.
It appraises the adequacy of procedures in place in keeping people safe. Results are published on the VeChain blockchain to provide tamperproof statements that can be accessed by all stakeholders.
"All assessment statements are stored on our blockchain for added trust and integrity. Your message is effectively communicated to customers through the dedicated My Care trust mark. Display it in your online channels or physically on your premises. Customers can instantly access the validated statement for verification and use it in their decision making."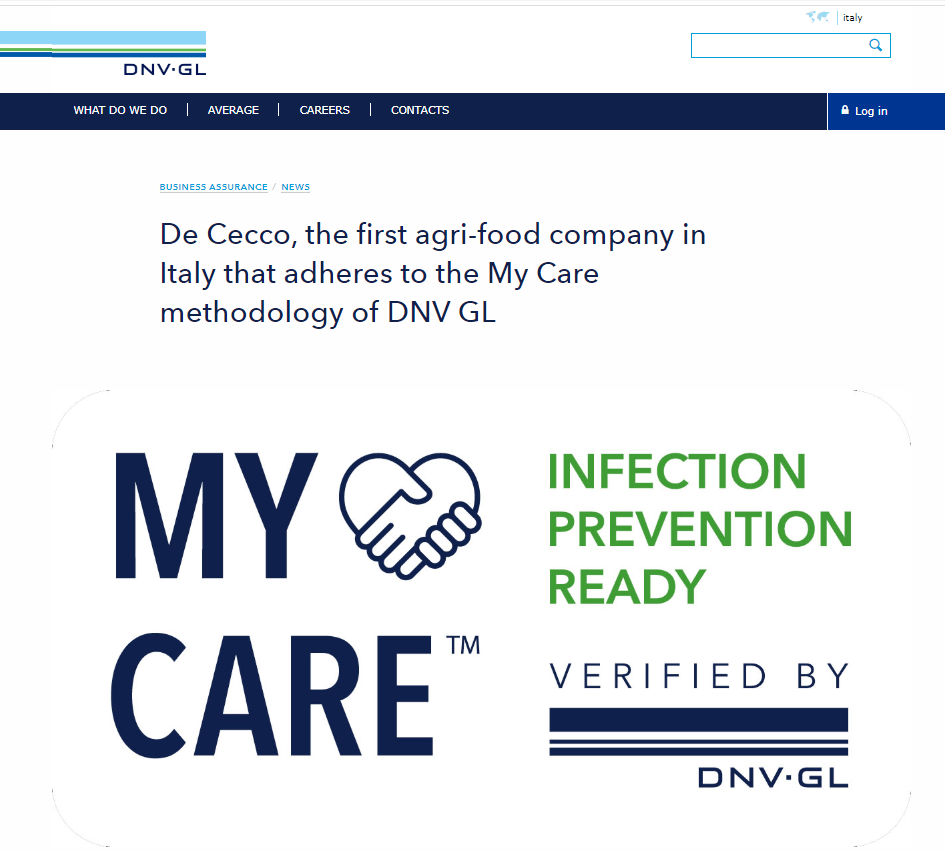 Source: dnvgl.it
DNV GL's assessment of De Cecco showed full compliance with My Care methodology.
Francesco Di Sarno, Digital Assurance & Supply Chain Sales Director at DNV GL said De Cecco showed a serious commitment to meeting the criteria for the methodology and were transparent throughout the inspection process.
"Our verifications according to the My Care methodology revealed full compliance for the mill, the pasta factory, the oil mill and the business center of the De Cecco Group. 
VeChain is one of the few crypto projects that has successfully integrated blockchain technology with real-world use cases.