Payments behemoth PayPal is expanding their crypto personnel. The company is reportedly hiring over 100 crypto-related employees as consumer crypto demand continues to grow. Over the past week, PayPal has been in continued conversations around growing it's crypto services.
A Lot Of Shoes To Fill
While a majority of the job listings are in the U.S., there are a variety of positions across the globe – including five listings in Tel Aviv, seven in Guatemala City, and six between Dublin and Dundalk. Stateside, over twenty listings are in California, with another fourteen in New York and a dozen in Austin, TX. There's a variety of positions in other U.S. cities as well.
Roles run the gambit, as well. Positions include anything from Enterprise Risk Managers and Operations Managers, to Legal Directors and Engineers – both on web and mobile. A number of the roles are for PayPal's online money transfer service, Xoom, and for mobile payments app Venmo.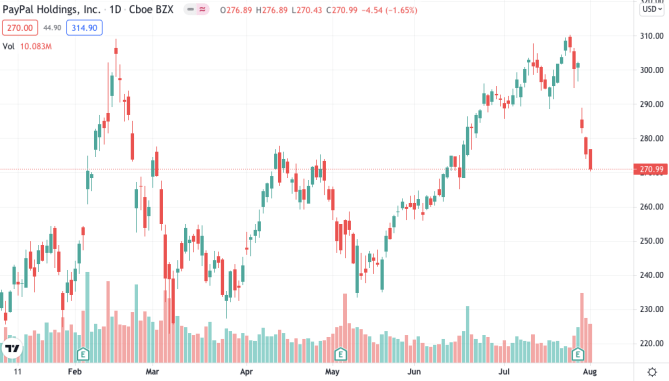 PayPal looks to continue investment in building it's crypto infrastructure, now bringing on a substantial amount of new team members across the globe.  | Source: NYSE: PYPL on TradingView.com
Related Reading | On-Chain Expert Predicts $162K Bitcoin Peak This Cycle
Crypto "Super App" & More From PayPal
Crypto development and expansion for PayPal seem to be on the up and up. During the company's second-quarter earnings call, CEO Dan Schulman stated that "the initial version of our new new consumer wallet super app is code complete and we are now beginning to slowly ramp." Schulman added that features will likely include "high-yield savings, early access to direct deposit funds, new and improved bill pay functionality, messaging capabilities outside of P2P to enable family and friend communications" and more.
Crypto expansion is clearly in full swing. Another note from Schulman on the recent earnings call was that crypto services in the U.K. could be unrolled as early as later this month.
Last month, the firm also removed their annual purchase limit on crypto, and raised their weekly limit to $100K. The bumps were substantial previous weekly limit was $20K, and previous annual limit was $50K. These moves look to be the start of more aggressive maneuvers for PayPal in crypto. "We're right in the middle of some open banking integration," Schulman noted on the earnings call, which would "increase the ability to fully integrate it into ACH and do faster payments."
The new crypto job listings come right on the cusp of PayPal competitor Square releasing strong year-over-year growth in bitcoin revenue and profits.
PayPal crypto launched in October 2020. Shortly after launch, U.S. customers were able to buy, sell and store Bitcoin, Litecoin, Ethereum, and Bitcoin Cash. Could more global access be on the horizon for PayPal customers?
Related Reading | "The Death Of China's Bitcoin Mining Industry," 7 Takeaways From The Article
Featured image from Pixabay, Charts from TradingView.com