Against all the critical expectations, Bitcoin is growing — and is promising to revolutionize some of the biggest, well-settled banking infrastructures with its indisputably advanced blockchain technology. But according to an accomplished IT scholar, there is still a scope of improvement in the digital currency.
John Carroll, a Distinguished Professor of Information Sciences and Technology at Penn State University, believes that Bitcoin will lose its shine in future, if there be any additional improvements in other alternative digital currencies, or altcoins. His comments are derived from a scenario where Bitcoin will be the victim of some "pioneer's penalty" if it fails to add anything more to the table. In simple words, who will use an acoustic string telephone when he could access a mobile phone.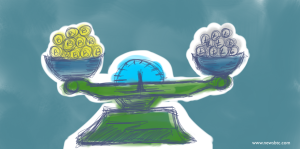 The arrival of some feature-rich digital currencies, on the other hand, does support Carroll's futuristic theories. At one point, we have Ripple — a payment protocol and a value-carrying token — that is known to be harnessing the most from the Bitcoin technology. At another, we have Dash (formerly known as Darkcoin), which is leaving no-stone-unturned in bringing out a consensus-based decentralized governance model for the entire cryptocurrency community.
Professor Carroll secretly refers these innovative altcoins to surpass, or even replace, the mightier Bitcoin. At first, the formers have the courage to experiment endlessly, given the small size of their communities. And as it seems, they are in the right direction to make a name for themselves. Bitcoin community, on the other hand, is still fighting over their chief developer's decision to increase the block size. The lack of consensus and governance is accurately visible. It could certainly impact the currency's growth in future, if not addressed properly.
"Bitcoin didn't do everything right," Carroll further states. "I don't know whether becoming the currency of choice for murder-for-hire and drug deals helped them much. But it's often the case that those early pioneers make missteps that are corrected by succeeding initiatives, which may be what will happen here."