Polkadot (DOT) has ushered in the first week of 2023 on a strong note, rising 8% in the last seven days, data from Coingecko shows, Wednesday. 
The ecosystem itself has been very bullish recently, following the trend of the crypto market. According to Polkadot Insider, who posted an on-chain update of the ecosystem, Polkadot is registering new users on-chain, peaking on January 6th at 2,126 new users. 
The ecosystem also saw gradual increases in revenue. Compared to December's final week– which includes January 1st, in line with Polkadot Insider's chart– average revenues on the last week of the month was at $671.8 million, but the average rose this week to $709.3 million.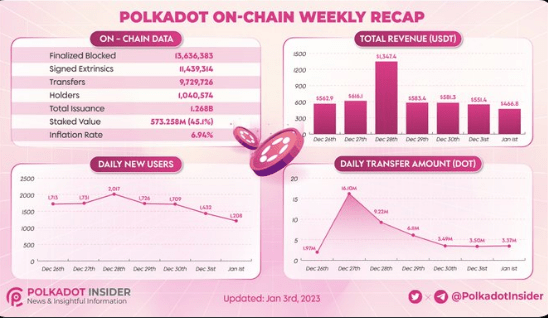 Image: Polkadot Insider/Twitter
Connecting The DOTs
Polkadot released a blog post rounding up the developments on the ecosystem last year and it is impressive nonetheless. Even with the strong grip of the bear market, Polkadot has over 550 projects running on-chain or are being developed on the ecosystem. With over 71 parachains on Polkadot, development will continue even in the midst of the bear market. 
Chart: Santiment
This can be seen in the development activity on-chain which skyrocketed with the start of the year. Polkadot also scored major partnerships with Japan phone operator NTT Docomo and video game company Square Enix, further strengthening the ecosystem's Web3 infrastructure. 
But positive revenues, booming dev activity, and major tie-ups could have no big effect on DOT's price, despite its latest weekly ascent. The token has not broken its sluggish pace which started in May last year. This downtrend, if not altered this year, will eventually lead the token to retest its support at $4.  
Polkadot 'Sucker Rally'
As of writing, the token is changing hands at $4.8 which is not a far cry from the $5 resistance that halted any bullish run for DOT. According to crypto analyst Market Mobster, the rally that DOT has experienced is just what they call a "sucker rallys."
Some $DOT analysis

Be careful of these types of 'suckers rallys'

As much as I love @Polkadot I'm not adding to my bag here, monster downtrend needs to break structure to give me more confidence

99% of coins look like this when you zoom out. You should have bought it weeks ago pic.twitter.com/4cPzh0xfVZ

— Market Mobster (@MarketMobsterUK) January 9, 2023
DOT total market cap at $5.7 billion on the daily chart | Chart: TradingView.com
Other analysts, however, are bullish that the token would break out of its current macro trend and rise. However, this week's Consumer Price Index data release would be a dice roll for the broader financial space.
Image: GURU/Twitter
The token may enter a sideways motion as the market waits for the release of the CPI. However, the token's correlation with BTC might give a needed boost to finally end the macro trend it has followed since last year. 
-Featured image from Cryptoglobe