Polkadot (DOT) is riding a solid bullish momentum that enabled it to stay in the green for the past 24 hours and maintain significant gains in the last seven days.
According to tracking from Coingecko, at the time of writing, DOT is changing hands at $4.69, tallying a weekly hike of 10%.
Moreover, the 13th largest cryptocurrency in terms of market cap has managed to trim its 30-day losses down to just 11.4% although it is still several miles away from its all-time high value of $54.98%.
Holders, though, need to be cautious as some of its technical indicators show that Polkadot's surge might be short-lived.
DOT might soon experience strong selling pressure as indicated by its Relative Strength Index (RSI) which is currently hovering at the 50% region.
DOT No Longer A Security
Although there's a lot of uncertainty in DOT's future as far as trading price is concerned, it would seem that the crypto asset has put itself in a very good position to avoid being choked by strict regulations that threatens the broader crypto space.
Following the collapse of the FTX exchange platform that made investors lost a lot of money and the continued proliferation of crypto scams, analysts expect that international governments will soon bring the hammer down to better regulate ownership, selling, buying, trading and use of cryptocurrencies.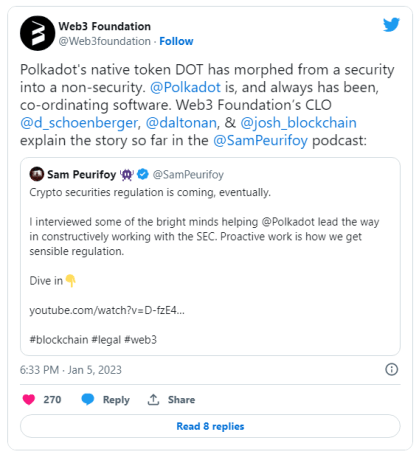 Polkadot, however, could be safe from this looming threat as according to Web3 Foundation, the altcoin is no longer considered as a security but more like a software.
In addition, the team behind the project have been proactively working with the U.S. Securities and Exchange Commission (SEC) for a more sensible regulation.  In doing so, DOT might have just saved itself from this market landscape-changing development.
DOT total market cap at $5.3 billion on the daily chart | Chart: TradingView.com
Polkadot Price Forecast
As there is no clear timetable yet for the enforcement of additional regulations for the crypto space, DOT investors need to turn their focus first on what awaits the digital asset in the days to come.
Chart: Coincodex
According to Coincodex, Polkadot's price is poised slightly increase within the next five days as the digital currency is forecasted to change hands at $4.73.
The 30-day forecast for the altcoin is also bullish as it is predicted to make a significant jump from its current trading value all the way up to $6.26.
-Featured image: Coin Guru