Ripple is one of the altcoins that has strived comparative well within the cryptocurrency space. The price-performance and the general trend in the protocol's ecosystem have made this crypto one of the outstanding long-term and short-term investment choices.
Currently, Ripple is ranked in the 6th position according to CoinMarketCap, as it boasts a market cap of over $40 billion.
With the recent case of SEC and Ripple, several of the XRP community have some built-up tension over the possible action to expect.
Related Reading | Bitcoin Hashrate Climbs To New High As Price Recovers Above $42,000
This is after the unsealing of three different documents set by the judge. However, John Deaton, the cryptocurrency lawyer representing more than 64,000 XRP holders, put forth some possibilities to calm the situation. First, he explained that SEC is likely to make two potential moves.
From the new evidence, there's an inclusion of the email thread and deposition notice of Brad Garlinghouse, Ripple CEO. Also, the evidence contains the line of Chris Larsen, a Ripple executive.
According to Deaton's suggestion, substantially proving the link between Ripple's public announcements and XRP price would be a near impossibility. Moreover, he mentioned that the SEC would have to confirm the sale of XRP tokens by Garlinghouse and Larsen in the U.S.
Furthermore, the lawyer was contemplating if SEC could lay claim of Ripple creating a secondary market for XRP. This could be their alternative approach once they fail to establish that the two Ripple executives are selling XRP in the U.S.
Deaton is yet to access the unsealed document despite his having the amicus counsel status in the case.
Ripple (XRP) Price Hikes, Aims To Touch $0.90
The price of XRP is finally skyrocketing, as shown on the 4-hour chart. Its upward trend indicates a prime surge, as its target is to hit $0.90. However, the crypto may have to face a little tussle in striving to achieve its target.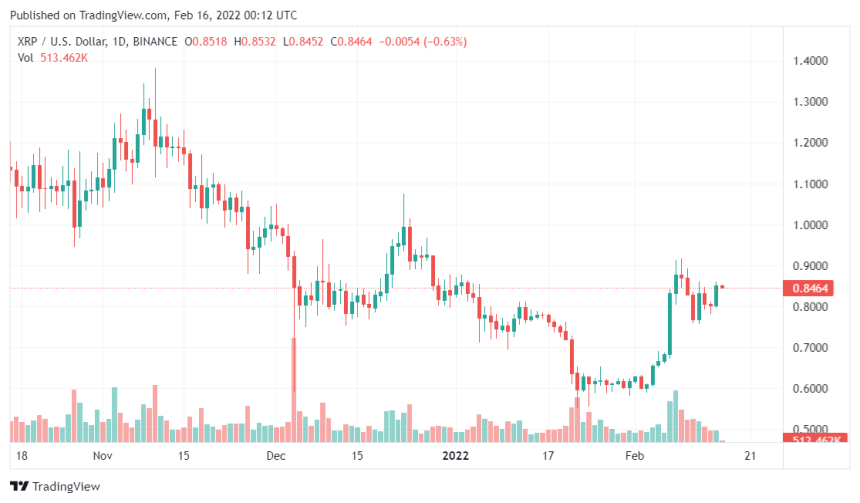 But through its move, the XRP price is likely to encounter a great challenge while soaring above the $0.90 level. This is mainly due to the resistant bridge from the Momentum Reversal Indicator (MRI) as the 78.6% Fibonacci retracement level.
Related Reading | These Two Altcoins Are Ready For Major Pullback, Says Crypto Analyst
Once there's an increase in the buying orders, the bullish trend of the XRP price will likely get to a new high. But where the selling demands increase, the XRP price may have to dwindle and hit its Simple Moving Average (SMA) of $0.69.
Featured image from Pixabay, chart from TradingView.com