Blockchain data transparency offers a figurative ocean of information at a click. New data shows that Ripple whales are buying up any XRP small fish sellers are offering up.
In the past, XRP broke out from downtrends with an explosive move. With so many whales accumulating, will there soon be a "thar she blows" moment?
Ripple Protocol Reveals Public Wallet Data, What Does It Say?
XRP is the native cryptocurrency token of the Ripple protocol, another distributed ledger like Bitcoin or Ethereum.
The beauty of blockchain distributed ledger technology is the transparency it provides. Anyone can access this information, at any time using various explorer tools.
Blockchain data available includes how many transactions are made, at when, and for what amount. It also contains details of how much crypto is stored in the wallet, along with the wallet address.
Related Reading | Ripple Whale: It Only Takes $20,000 To Become a One-Percenter 
This publicly available information can be helpful in fundamental analysis in cryptocurrencies. By understanding wallet inflow or outflow, or the size of wallets, it can sometimes tip off market movements.
XRP transactions act the same, with all of this detailed information visible through the Ripple network.
A divergence in XRP whale wallets and small fish crypto investors may provide clues as to what to expect next.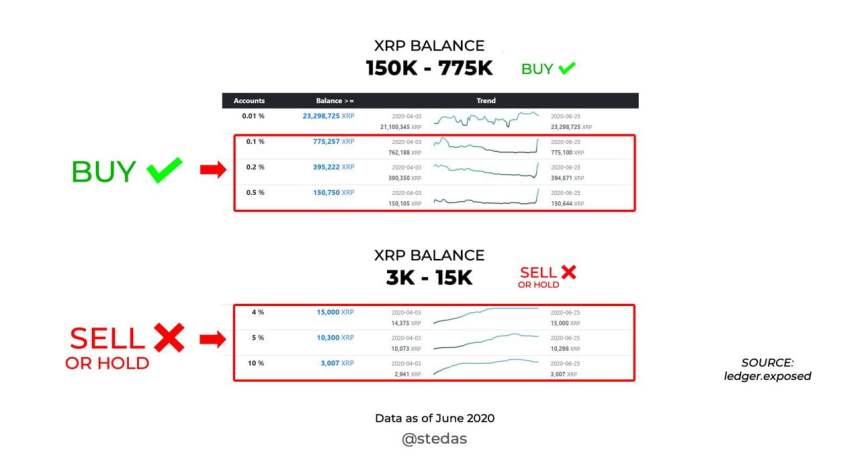 XRP Whales Are Accumulating,
 

Absorbing All Selling In A Sea of Small Fish

According to blockchain data, wallets containing a balance of 175K to 775K XRP have been accumulating at a full pace.

Meanwhile, smaller wallets containing just 3K to 15K XRP are either selling or still holding strong.

The first subset represents the top 0.1 through 0.5 percent of accounts. The second group represents between the top 4 and 10 percent of accounts.

The size of the second group is much larger, yet the data shows whales are soaking it all up.

Related Reading | Number of Ripple Whales Spikes to New All-Time High as XRP Eyes $0.20 

Whales get their name due to their sheer size and ability to make a big splash in markets. They also can absorb more opposing market pressure than most participants.

If XRP whales are accumulating, it could be because history often repeats. In the past, Ripple skyrockets after a confirmed breakout of downtrend resistance. If it happens again, the asset could target $14 per token.

Past research revealed it only takes a $20,000 investment in the altcoin to be a "Ripple one-percenter." However, with the largest XRP accounts growing in size, this wealth may since have been redistributed.

Whatever the case, there's no arguing with data. And data shows whales are buying up an entire sea of small fish. Will there be a "thar she blows" moment soon in the cryptocurrency?