XRP really hasn't done too well over the past few months. Case in point: crypto data provider Messari indicates that "XRP was the worst performer in Q1 of the top 25 assets" in its "currencies sector," which excludes Bitcoin. This means that XRP underperformed Bitcoin Cash, Litecoin, Monero, Stellar, and many other cryptocurrencies over the course of the first quarter of this year.
This trend has continued into the second quarter of this year, with charts from CoinMarketCap indicating that XRP is up a mere 2% since April started while Bitcoin has gained a more impressive 5%.
But, according to a popular crypto trade, this trend is likely to reverse, remarking that XRP is printing a textbook sign of a bottom, and will soon reverse strongly to the upside.
XRP Could Soon See Massive Bull Reversal: Analyst
Analyst "Credible Crypto" recently showed that both Bitcoin and XRP are in the midst of printing a textbook diamond pattern, which he claims is a sign of an imminent bottom.
His chart depicts that if this formation plays out, the two cryptocurrencies will rally by 100% in the coming months as we head into the halving. As Credible Crypto added, that it may take "some time" for the diamond bottom to actually pan out due to the formation occurring on a long-time frame chart, the one-day.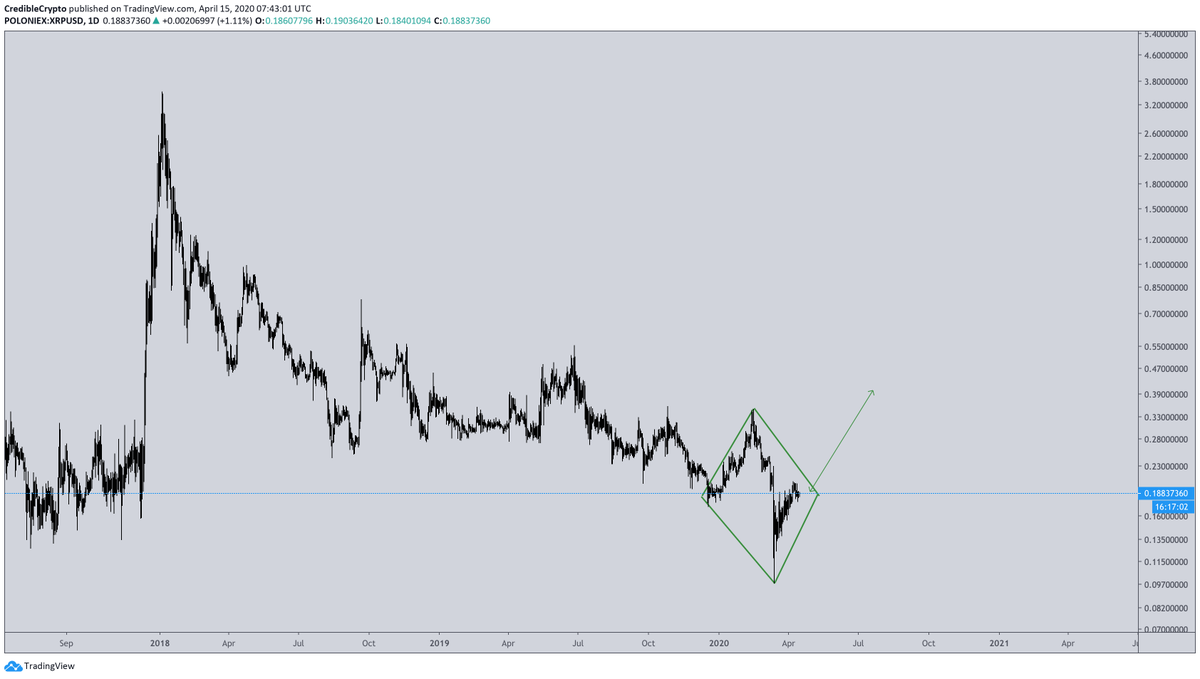 To add to this, a number of altcoin traders have shown that the chart of XRP's performance against Bitcoin (XRP/BTC) is in the midst of bottoming as well, with one popular trader suggesting the cryptocurrency is in the midst of a textbook Adam and Eve bottom, marked by a spike lower, slight recovery, and rounded consolidation bottom to mark the start of a bull run.
Luke Martin, a prominent crypto trader featured on CNN, echoed this sentiment, writing that he thinks XRP/BTC will rally dozens of percent to a long-term resistance over the coming days and weeks.
I don't know how, and I don't know why, but this is what I expect for $XRPBTC pic.twitter.com/6hkUj0aGq8

— Luke Martin (@VentureCoinist) March 31, 2020
Don't Get Your Hopes Up
Others, however, have said it is too soon for investors in the altcoin to get their hopes up.
Per previous reports from NewsBTC, the same trader who nailed the $0.13 call said that XRP is currently in the midst of an Elliot Wave correction, which will likely see the cryptocurrency fall towards $0.08-0.09, then continue lower to $0.05-0.06 to establish a long-term bottom in the middle of 2020.
The latter range mentioned acted as resistance for the cryptocurrency during 2017's rally, making it a likely place at which XRP will bottom if it falls to the single-digit cents.
Also, Peter Brandt — a veteran commodities trader — explained in the middle of March that there is only "white space below" on the long-term chart of XRP, suggesting that it could continue to plunge lower on a macro scale without much support.
I am breaking a promise.

I said I would never again post a chart of $XRP

But, I thought you all might be interested in what it means to have …

"While space below" pic.twitter.com/Pse2DkEXfp

— Peter Brandt (@PeterLBrandt) March 12, 2020
Photo by Pablo Heimplatz on Unsplash