It finally happened. After years of uncertainty on the matter, the SEC is taking decisive action against Ripple. The point in question is whether Ripple's native XRP token is a security or not.
Late yesterday, Ripple CEO Brad Garlinghouse said the SEC has made a determination, and they plan to bring action accordingly.
Under U.S securities law, firms must register with the SEC before selling securities. A move that Ripple did not comply with.
Tweeting about the situation, Garlinghouse called this an attack on the entire crypto industry, not just Ripple. He then went on to say that the action is inconsistent with the stance held by other G20 nations. And, as previously mentioned, he maintains the position that this is harmful to the U.S.
"The SEC – out of step with other G20 countries & the rest of the US govt – should not be able to cherry-pick what innovation looks like (especially when their decision directly benefits China). Make no mistake, we are ready to fight and win – this battle is just beginning."
Today, the SEC voted to attack crypto. Chairman Jay Clayton – in his final act – is picking winners and trying to limit US innovation in the crypto industry to BTC and ETH. (1/3) https://t.co/r9bgT9Pcuu

— Brad Garlinghouse (@bgarlinghouse) December 22, 2020
Garlinghouse Disagrees With The SEC's Interpretation of The Howey Test
In 2018, the former SEC Chairman Jay Clayton declared that Bitcoin and Ethereum are not securities.
The SEC classifies a security as an investment of money in a common enterprise, in which the investor expects profits primarily from the effort of others.
The effort of others means a significant central third party whose efforts are a critical factor in the enterprise.
Clayton states that both Bitcoin and Ethereum fit the bill of decentralized platforms. As such, they do not rely on significant central parties.
"when I look at Bitcoin today, I do not see a central third party whose efforts are a key determining factor in the enterprise. The network on which Bitcoin functions is operational and appears to have been decentralized for some time, perhaps from inception.

And putting aside the fundraising that accompanied the creation of Ether, based on my understanding of the present state of Ether, the Ethereum network and its decentralized structure, current offers and sales of Ether are not securities transactions."
In the past, Garlinghouse pointed out that Chinese mining firms control the majority hashing power for both Bitcoin and Ethereum. As these are significant central third parties, the SEC ruling is unjust.
In preparation to take on the SEC, Ripple has written a summary submission on which they will base their defense.
On that, Ethereum Co-founder Vitalik Buterin blasted the document saying Ripple is clutching at straws. Buterin is adamant that Ripple's arguments about "Chinese control" hold no weight when it comes to Ripple's relationship with XRP.
Looks like the Ripple/XRP team is sinking to new levels of strangeness. They're claiming that their shitcoin should not be called a security for *public policy reasons*, namely because Bitcoin and Ethereum are "Chinese-controlled". ??https://t.co/ts02JqrTrB pic.twitter.com/mKwEzGIetk

— vitalik.eth (@VitalikButerin) December 22, 2020
Buterin's response to the document has drawn criticism from many people, including Binance CEO Changpeng Zhao. Zhao echoed what Garlinghouse said by saying this stunts the entire crypto industry.
Let's be decentralized, but not divided. Let's help each other to grow the industry. #BTC, #ETH, #XRP, #BNB https://t.co/2jQZ48a12x

— CZ Binance (@cz_binance) December 22, 2020
Ripple's XRP Takes a Pounding
XRP plummeted on the news, bouncing off the $0.45 support level, currently at $0.46. What's more, having broken below key support at $0.53, the expectation for further downside is heightened.
The SEC case will be a long and drawn-out affair. What then for the price of XRP?
As pointed out by Alex Saunders of Nugget's News, Ripple relies on partnerships with firms that are compliant. He said:
"I feel for $XRP investors who are hurting right now. I've outlined many times why things were never going to end well for@ripple. Hopefully that helped a few of you dodge this bullet. No compliant company will touch #XRP with this over their head."
Garlinghouse spoke of fighting and winning. But being realistic, what are Ripple's chances of coming out on top?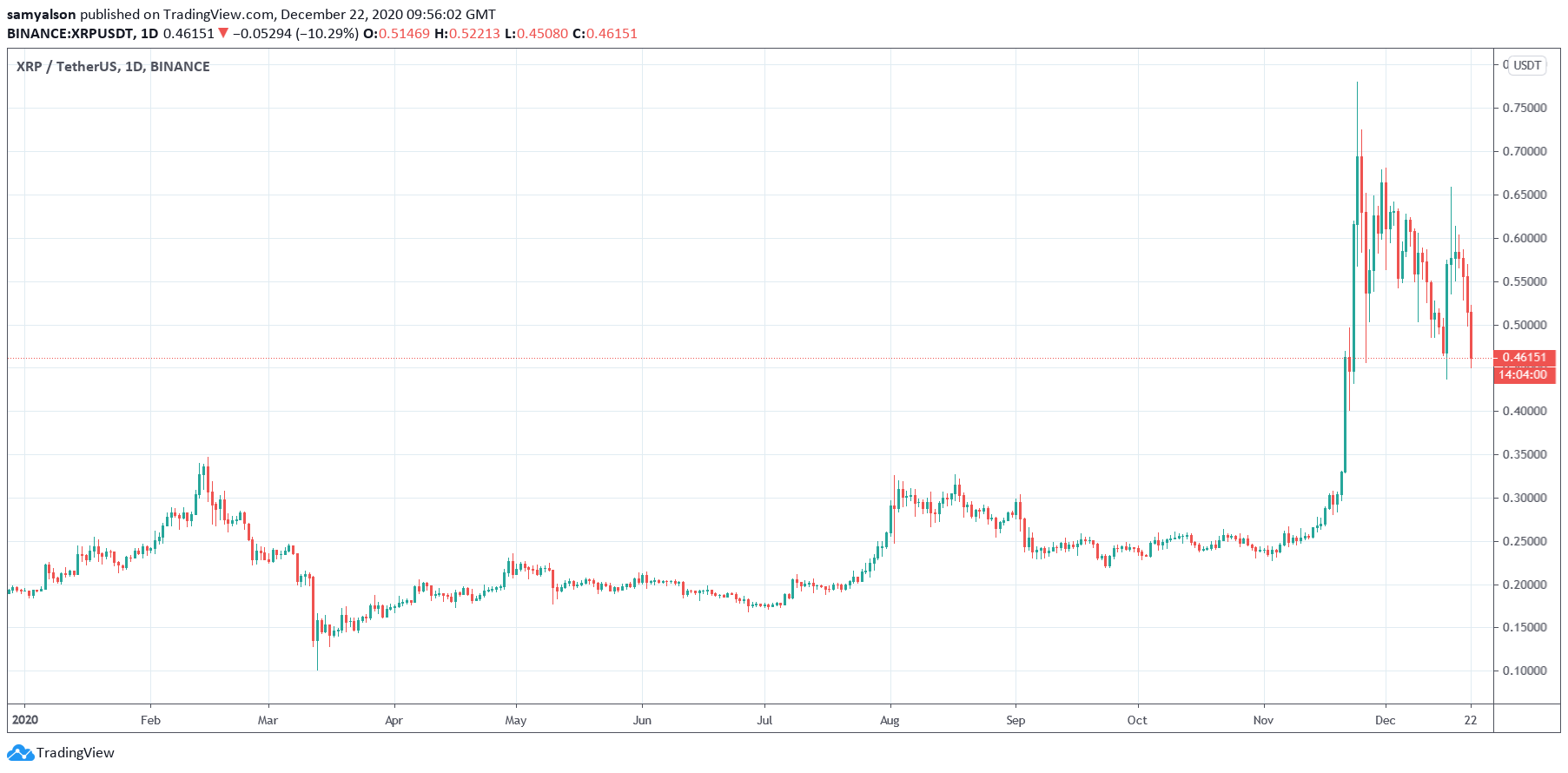 Source: XRPUSDT on TradingView.com