In a recent post, the Chief Legal Officer of Ripple, Stuart Alderoty, stated that legally federal employees must act impartially. As such, the United States Security and Exchange Commission (SEC) especially should comply with rigid rules. Alderoty reaction relates to the Hinman documents and allegations of William Hinman's favoritism towards Ether.
SEC Counsel Emphasizes On The Law
In the tweet, Stuart Alderoty stated the law requires SEC employees, like all federal employees, to act (and appear to act) impartially. Notably, he cited the basic obligations of public service from (5 CFR 2635.101(b)(14)) covering the general principles and code of conducts for employees.
The sub-section states that federal employees shall endeavor to avoid any actions creating the appearance that they are violating the law or ethical standards. Alderoty quotes this while referring to the SEC and their perceived evasion tactics in the ongoing lawsuit against Ripple.
Interestingly, the released Hinman documents imply that former Director of the SEC's Corporation Finance William Hinman refused to heed caution while drafting the speech.
In the documents, Hinman said that Ethereum and Bitcoin were not securities and noted that a token would no longer be grouped as a security if it became sufficiently decentralized. 
However, some crypto community members believe the infamous speech deliberately favors Ether implying that Hinman wasn't impartial in the speech.
On June 13, Stuart posted;
An investigation must be conducted to understand what or who influenced Hinman, why conflicts (or, at the very least, appearances of conflicts) were ignored, and why the SEC touted the speech knowing that it would create "greater confusion."
Ripple To Investigate Who Influenced Hinman
On June 13, Stuart Alderoty gave a brief recap of the Hinman emails on Twitter, stating that he ignored multiple warnings that his speech contained a made-up analysis with no legal basis.
Also, he noted that although Hinman claimed the speech was his personal opinion, the SEC used it for guidance and retained it on their website.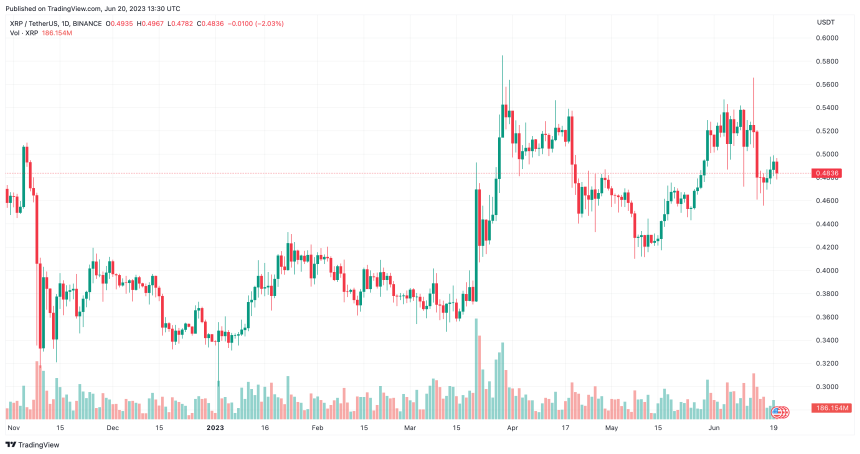 Notably, other top executives at the SEC warned Hinman that the speech would create more market confusion. A warning he refused to heed when he delivered the speech.
A Twitter user Mr. Huber, asked Ripple and its CEO, Brad Garlinghouse if they had plans to address the issue aside from calling for an investigation on Twitter. 
The CEO of Ripple replied in the affirmative to the inquiry but did not reveal how they would execute the planned investigation on Hinman. Meanwhile, ex-SEC director Marc Fagel stated that he believes a ruling on the ongoing case is coming within days. 
He noted that even if he is wrong, there is no basis to think that the delay is due to the complex nature of the case. Finally, he said that the speech did not cause greater confusion as Ripple is substantially different.
featured image from Pixabay and chart from Tradingview.com