XRP was among the biggest gainers in the cryptocurrency market on Tuesday, even as most of its top rivals, including Bitcoin, experienced major sell-offs.
The Ripple blockchain's native token surged up to 19.46 percent to an intraday high of $0.52 during the Asia-Pacific session. While it failed to extend its upside bias any further, leading to an immediate rejection that dumped its price back below $0.50, the bullish move woke XRP out of its fundamental-led slumberless.
A Defensive Attack?
In retrospect, XRP remained an underperforming asset after the US Securities and Exchange Commission (SEC) filed a lawsuit against its parent company, Ripple Labs, in December last year.
The regulator accused the San Francisco blockchain firm and its top executives of selling illegal securities in the form of XRP. Ripple had control over XRP's supply and distribution in the early days, and even its efforts to prove a decentralized control over the token have turned out cosmetic in nature.
Many exchanges decided to delist XRP off their trading platforms until further notice. That included the top US cryptocurrency exchange Coinbase and Binance, the world's largest cryptocurrency trading platform by volume. Meanwhile, XRP/USD remained—at best—erratic, logging wild upside and downside moves as it attempted to stay in course with the rest of the bullish cryptocurrencies.
But this week, certain efforts were made to offset the fundamental negative bias in the Ripple market. According to new legal filings, some third-party defendants, who call themselves XRP holders, filed a tit-for-tat lawsuit against the SEC, accusing the US securities regulator of "misconduct and/or gross negligence and gross abuse of discretion related to its allegations and claims regarding the Digital Asset XRP."
"It is not just Ripple's current distribution of XRP that is at issue, but whether present-day XRP owned by XRP Holders are considered securities because most U.S. exchanges have delisted and/or suspended XRP trading entirely, thereby causing the XRP held by XRP Holders untradeable and, thus, useless," wrote XRP holders' attorney John Deaton in the March 14 letter to Torres.
"The SEC had an opportunity to amend the Complaint and provide clarity to the markets but, instead, deferred that responsibility to this Honorable Court."
What's Next for XRP?
Technically, nothing has changed much for the Ripple token.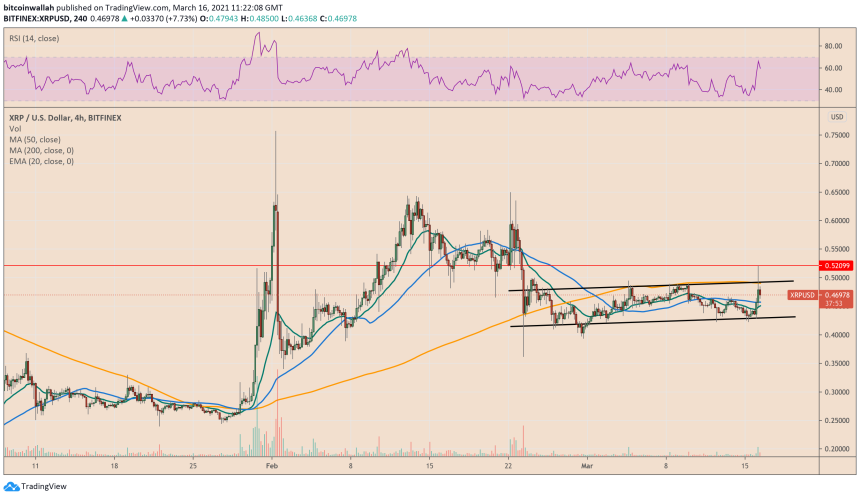 The XRP/USD rate continues to trade inside a sideways consolidation range, fluctuating between two trendlines as it awaits a price breakout. The pair briefly broke above its Channel's upper trendline resistance but landed back inside the range later.
On longer timeframes, XRP still forms lower highs and higher lows that put its bias in a neutral category. So it appears, only the lawsuit's outcome could determine the Ripple token's long-term bias.