Along with Bitcoin, Ethereum, and the rest of the crypto market, XRP has taken a significant hit during the last 48 hours of carnage.
Ripple has since plunged by over 20% from its recent peak, but a bearish divergence forming could be a prelude to substantial downside ahead.
XRP Falls 20% In Two Days, Is The High For 2020 Already In?
The total crypto market cap within the last 48 hours had over $50 billion in value wiped out from the massive 2020 rally that at the peak saw an over 100% increase year-to-date.
But that high may be in for the year for several top crypto assets, including XRP, which has fallen over 20% in the last 48 hours alongside other majors like Bitcoin and Ethereum.
Related Reading | Bitcoin Breaks Below $11,000, How Deep Will The Selloff Go?
The altcoin known as Ripple has had one of the worst runs in crypto since its all-time high was set at over $3.50 per token. It spent the last two years as the market's worst performer, yet somehow has held on to one of the top-most ranks in the space.
A short spat with Tether resulted in some flip-flopping between number three and number four, but Tether's dominance could increase a lot more if massive bearish divergence plays out on XRPUSD price charts.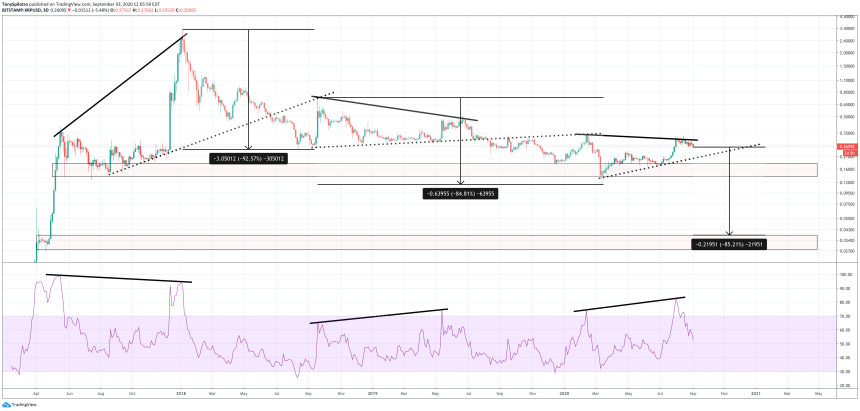 XRPUSD 3-Day Relative Strength Index Bearish Divergence | Source: TradingView
Why Ripple Could Face Another 80-90% Collapse In Crypto Crumbles
Several signs pointed to a new bull market in crypto and a strong recovery in XRP. The altcoin was a top-performing asset for the first time in ages, taking the asset from Black Thursday lows around ten cents to as high as over 30 cents at the 2020 high.
Except unlike Bitcoin and Ethereum that set new 2020 highs following the Black Thursday low, XRP still has been trading far below the early February 2020 high.
While the price failed to set a higher high, the Relative Strength Index, however, did. This sort of behavior when an indicator and price action diverge, is called a hidden bearish divergence.
Related Reading | This Signal Says Ethereum Could Lead Alts Off A Cliff
These can often act as strong, bearish warning signals, and a reversal often follows. The only way an asset can prevent a deep decline is if a rebound can take price action to a greater high.
If the bearish divergence plays out, Ripple could be in for yet another 80-90% crash. According to two past bearish divergences, each time the asset failed to set a new high, the altcoin plummeted by between 84% and 92%. Another similar-sized drop would take the altcoin back to just three cents per token.
Sounds impossible after such a drawdown, but anything is possible in cryptocurrencies, especially with the global economy in such shambles due to the pandemic. But Ripple bulls will want to be wary in the days ahead in case such a scenario plays out.