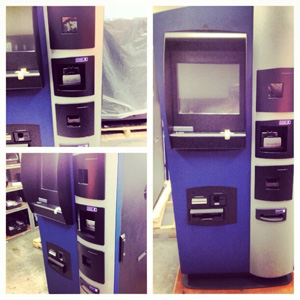 The web has been abuzz with the Las Vegas-based company called Robocoin. The company has one bitcoin ATM out in the wild in a Vancouver coffee shop that has done over $1 million CAD in transactions — in the first month of operation.
But so far, we've yet to see this American company send an ATM to an American city.
That will soon be changing. A report from DNAinfo Chicago notes that a company called Windy City Bitcoin (founded by Rich Gatz) has placed an order for a kiosk and will be locating it in the midwest for transactions in the very near future. It's unclear just exactly where Gatz's company will locate the ATM, but Chicago is a fair guess. As for when, March of 2014 is looking likely.
Robocoin is also shipping a bitcoin ATM to the Eastern coast of the United States in January. It's not clear where that ATM will be located, but we've previously heard Boston was a target area.
It's a sure sign that this bitcoin expansion is real with the important intent of getting bitcoin into more peoples' hands.