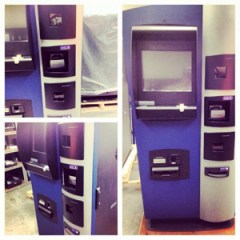 We've been talking quite a bit about the Robocoin bitcoin ATM in a downtown Vancouver cafe. In one day, the ATM saw about $10,000 in transactions — that is, people buying and selling bitcoin.
Fast-forward a bit over a week later and you get an equally as impressive number. In the first 8 days of operation, the Robocoin ATM has done about $100,000 in buys and sells, according to a Washington Post report. Eighty percent of the transactions on the Robocoin machine were buys, twenty percent were sells (obviously).
Waves Coffee, the cafe in which the first Robocoin was installed has purchased 5 machines, each priced at $20,000. It's just the start, according to Robocoin. More ATMs are coming to American cities such as San Francisco, Los Angeles, and as far east as Boston early next year.
[via Reddit via Washington Post]