The Securities and Exchange Commission (SEC) has responded to Coinbase's complaint. The largest American crypto exchange had sued the SEC on April 25, demanding clarity on crypto regulation. The company filed a petition for a writ of mandamus, which requires the SEC to respond within a reasonable time.
In the filing, Coinbase asks the SEC to formally clarify "which digital assets must be registered as securities." In addition, the court should require the SEC to answer only "yes or no" to the question of whether it will impose rules on the crypto industry.
SEC Responds To Coinbase Complaint
Late Monday night (EST), the US regulator released its response, and the answer is once again more than disillusioning for the crypto community. Paul Grewal, Coinbase's Chief Legal Officer (CLO) wrote via Twitter that the SEC's response is "an overwhelming maybe".
According to him, today's filing marks the first time the SEC may have formally stated its views on whether and how the SEC will create rules for the crypto industry in court. The SEC told the court that crypto rulemaking may take years and that it is "in no rush".
Furthermore, the SEC acknowledged that it will continue to use enforcement actions as a substitute for rulemaking for the foreseeable future. In this regard, Grewal ironically states, "but not to worry – those enforcement actions may eventually 'inform' not-yet-planned rulemaking."
The SEC also alleges that Coinbase has no right to mandamus directing the regulator to perform certain duties:
Perhaps recognizing this, Coinbase instead asserts that this Court should compel the Commission to act on Coinbase's recently filed rulemaking petition. But no statute or regulation requires the Commission to take such action on a specific timeline.
Further, the SEC writes in its reply brief to the court that Chairman Gensler's public statements are not formal SEC guidance or policy statements and the public cannot rely on them as such. Grewal's conclusion is therefore devastating:
Overall the SEC's response reinforces Coinbase's long standing concern that our industry does not have clarity on what the SEC may consider to be within or outside its jurisdiction at any time, and it is likely to continue changing its mind along the way.
However, Grewal also announced in a tweet that Coinbase will take the opportunity to formally respond to the SEC's letter next week. It remains to be seen what the next steps for Coinbase are and whether the writ of mandamus can bring anything beneficial to the crypto industry.
The entire crypto market is currently at a crucial juncture price-wise. The total market cap stands at $1.098 trillion, just above the support line at $1.081 trillion. During the last sell-off, the 200-day EMA acted as crucial support.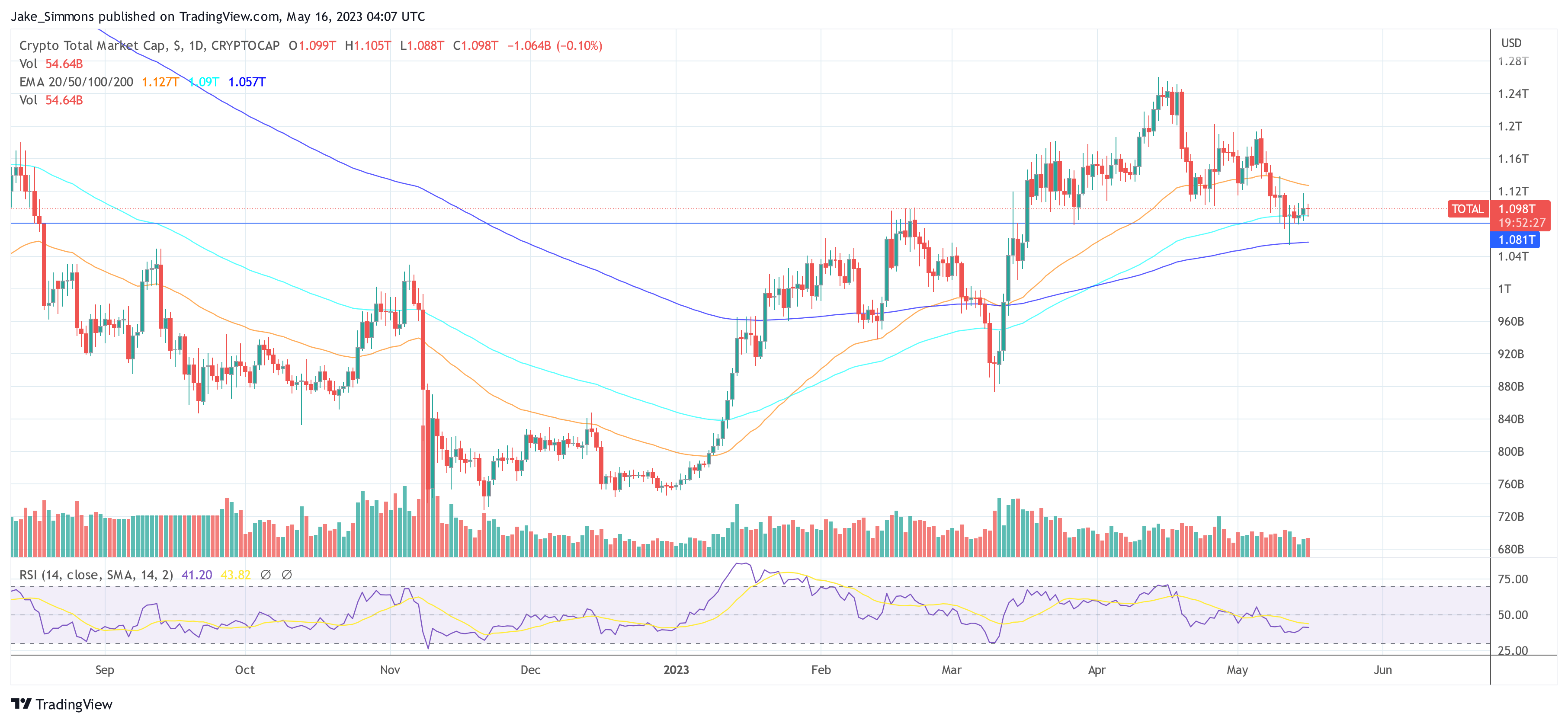 Featured image from Wccftech, chart from TradingView.com