Cryptocurrency exchange platform ShapeShift.io recently added NXT – a 100% POS cryptocurrency with a market cap of around $17 million.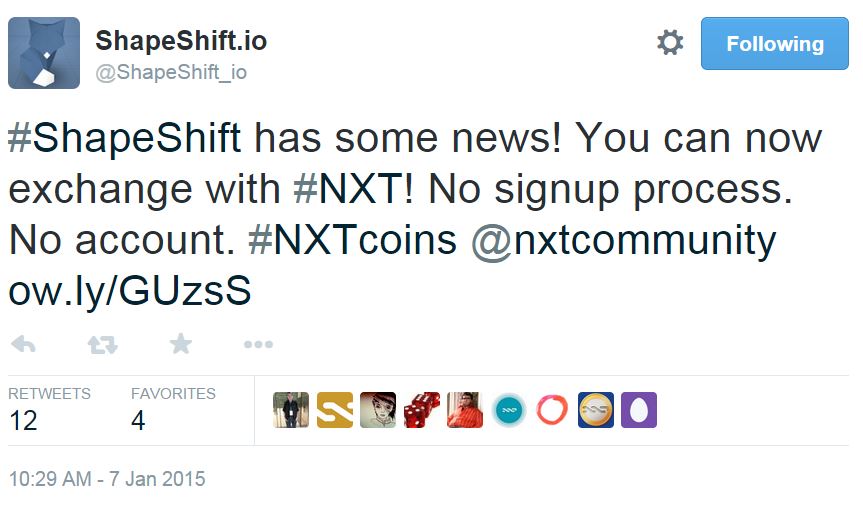 Offering users the ease of converting between multitudes of cryptocurrencies without requiring an account, ShapeShift is now attributing the same liquidity to NXT – a step which brings this digital currency a little towards user and merchant adoption. Over time, NXT developers have offered industry with a range of new and innovative features, the 'Monetary System' being one among them. ShapeShift, who itself is considered very selective when it comes to integrating new altcoins, could be experimenting with this new coin as well, at least to see its potential among the regular user base.
"We've been thrilled to finally support NXT on ShapeShift. NXT is one of the most innovative alternative cryptocurrencies, with some amazing built-in features like share issuance and an equity platform," ShapeShift CEO Beorn Gonthier told NewsBTC. "It's a completely different codebase, and worth checking out if you're involved in this space."
Following the announcement, NXT is now instantly convertible with 13 different cryptocurrencies – Bitcoin, Darkcoin, Peercoin, NuBits, Litecoin, Dogecoin, Blackcoin, Namecoin, Feathercoin, BitcoinDark, Quark, Namecoin and Reddcoin. They can be purchased or sold as well.
Another Addition to ShapeShift Platform
Just a day before the NXT announcement, ShapeShift.io also added a special 'Shifty Button' that allows merchants to accept Bitcoin payments at checkouts. Indeed, customers there can also pay with altcoins which, in real time, gets converted into BTC and are further transferred to merchants' wallets. This new service is free of cost.