Shiba Inu (SHIB) has recently experienced a significant breakthrough in its price movement. With a 10% rally, SHIB managed to surpass a crucial resistance point that had been hindering its upward momentum. This achievement has sparked excitement among SHIB investors and the wider cryptocurrency community.
After a period of consolidation, Shiba Inu broke through the resistance threshold at $0.000007, marking a crucial milestone for the cryptocurrency. This resistance level had been a major barrier for SHIB's upward movement in recent weeks. However, with its recent 10% rally, Shiba Inu demonstrated its ability to overcome obstacles and regain bullish momentum.
SHIB's Positive Price Performance
Shiba Inu's rally can be attributed to its positive price performance over the past 24 hours and the last seven days. According to CoinMarketCap, SHIB's price currently stands at $0.00000735. Within the last 24 hours, SHIB witnessed a notable 2.78% increase, contributing to its overall upward trend.
At the time of writing, SHIB data showed that the coin experienced an impressive climb of 10% in the last week, indicating sustained positive sentiment and growing interest among investors. The chart below shows the meme coin maintaining its foothold in the green zone in the last 24 hours.
SHIB price movement in the last 24-hours. Source: CoinMarketCap
The breakthrough of the resistance point holds several implications for Shiba Inu investors. Firstly, it instills confidence in the market, suggesting that SHIB has the potential to continue its upward trajectory. Breaking through this resistance level may attract more buyers and investors who were previously hesitant due to the barrier it presented.
The rally signifies increased trading activity and liquidity for SHIB. As more investors enter the market, the trading volume for Shiba Inu is likely to surge, leading to improved market depth and reduced volatility. This can be beneficial for both short-term traders looking for price fluctuations and long-term holders seeking stability.
SHIB market cap currently at $4.4 billion. Chart: TradingView.com
Moreover, the successful breach of the resistance level could be seen as a bullish signal by technical analysts. It may attract attention from traders who utilize technical analysis methods to identify trends and patterns in the market. This increased attention can further contribute to SHIB's positive price performance and potentially propel it towards new price highs.
Meanwhile, Shiba Inu took the No. 1 spot in the wake of its solid price surge based on crypto social and market activity. According to 1-day data on June 18, SHIB's social volume jumped to 13,100 and the total number of social engagements reached 193,858,991.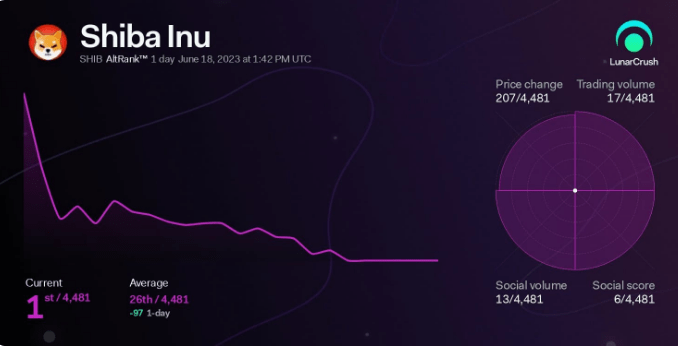 Shiba Inu performing strong in the social and market activity department. Source: LunarCrush
Looking Ahead
As Shiba Inu continues to break through crucial resistance points and demonstrate its ability to rally, the future looks promising for the meme-inspired cryptocurrency. 
This achievement has sparked optimism among SHIB investors and the wider cryptocurrency community, attracting more attention to the meme-inspired coin.
With sustained positive price performance and increased trading activity, Shiba Inu continues to make its mark in the crypto space, captivating the imagination of investors and enthusiasts alike.
(This site's content should not be construed as investment advice. Investing involves risk. When you invest, your capital is subject to risk).
Featured image from iStock