Shiba Inu (SHIB), a cryptocurrency that has gained immense popularity and attention in recent months, is making waves once again as its price exhibits signs of recovery. 
This week, the SHIB price has displayed a promising uptick, maintaining a level above the $0.0000065 range. Moreover, on-chain data analysis reveals a notable surge in positive social sentiment within the vibrant Shiba Inu community. 
With these encouraging developments, investors and enthusiasts eagerly ponder whether this could signal a forthcoming bullish reversal for SHIB. Is it time for the Shiba Inu token to regain its momentum and embark on a new upward trajectory?
Growing Optimism Among Shiba Inu Investors
After a volatile start to the month, investors in SHIB are beginning to feel more optimistic about the project's prospects. This renewed optimism can be attributed, in part, to Santiment's Weighted Sentiment, which assesses the overall mood of a blockchain community by comparing the number of positive comments to the negative ones.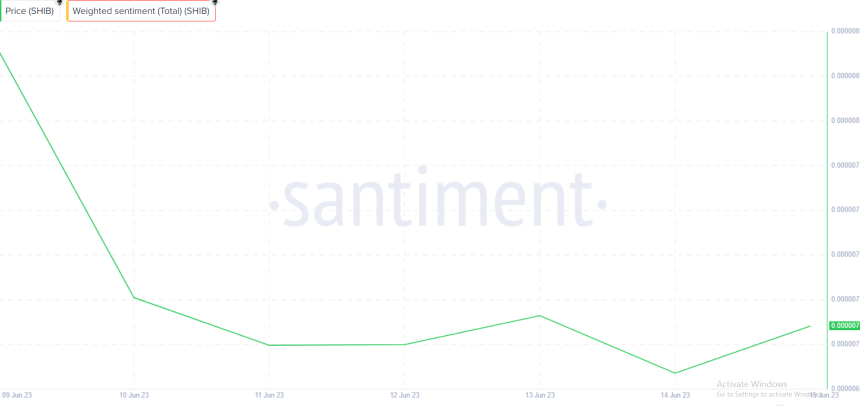 SHIB weighted sentiment. Source: Santiment
Adding to the positive sentiment, the Shiba Inu community received intriguing updates from notable figures within the project.
Something physical is coming. #shib #shibarmy pic.twitter.com/XuAe2AkpJw

— Shytoshi Kusama™ (@ShytoshiKusama) June 14, 2023
Shytoshi Kusama, a prominent Shiba Inu developer, generated excitement with a mysterious tweet teasing an upcoming product launch.
Soon after, Lucie Shib, another key contributor, affirmed the project's vitality and commitment to development in a separate tweet.
We are building.
We are not going anywhere.$SHIB x #Shiboshis

— 𝐋𝐔𝐂𝐈𝐄 (@LucieSHIB) June 15, 2023
Recent Price Movements And Social Sentiment
As per the latest data from CoinMarketCap, the current price of SHIB stands at $0.00000669, showcasing a 2.65% uptick within the past 24 hours. The past seven days also showed some price improvement for SHIB, as the meme coin gained 7.29%.

Source: CoinMarketCap
Examining on-chain data, it becomes evident that these critical announcements have had a positive impact on the social sentiment within the SHIB community.
The Weighted Sentiment metric for SHIB began to show an upward trend around June 9, and as of June 16, it sits at approximately -1.43. This indicates a notable 13% improvement in positive sentiment over the past week.
SHIB market cap currently at $4.07 billion on the weekend chart: TradingView.com
Possibility For A Bullish Reversal
When the Weighted Sentiment metric starts to rise during a period of price correction, it often signals the potential for a bullish reversal. Therefore, if the recent team announcement materializes into a well-received product launch, there is a possibility that the SHIB price could enter a phase of recovery in the near future. 
This development has captured the attention of investors and could pave the way for an upward trajectory for the meme coin.
Featured image from The Daily Hodl