The top 4 stablecoin valuations have declined significantly since this year. USDC and BUSD supply has depleted by $31 billion, pushing down the overall stablecoin market share. 
In addition, the top 4 stablecoins' market capitalization has dropped by 23% from a peak of $161 billion per Glassnode's report. The report noted the major cause of the shrinking stablecoin market cap is the dwindling supply of USDC and BUSD.
USDT Dominance Increases As BUSD And USDC Supply Shrink
The stablecoin market has faced its share of challenges this year, partly due to regulatory roadblocks on BUSD and USDC. BUSD's supply has reduced since its issuer Paxos suspended minting after receiving a desist order from US regulators.
Also, Circle announced that $3.3 billion of USDCs are stuck on Silicon Valley Bank. As a result, the aggregate market cap of the top four stablecoins fell from $161 billion by 23%.
According to Glassnode's report, USDC circulating supply has declined by $20 billion while BUSD's reduced by $11 billion from their peaks. Also, Tether (USDT), the number 1 stablecoin, lost $1.3 billion from its supply, while DAI lost $4.4 billion.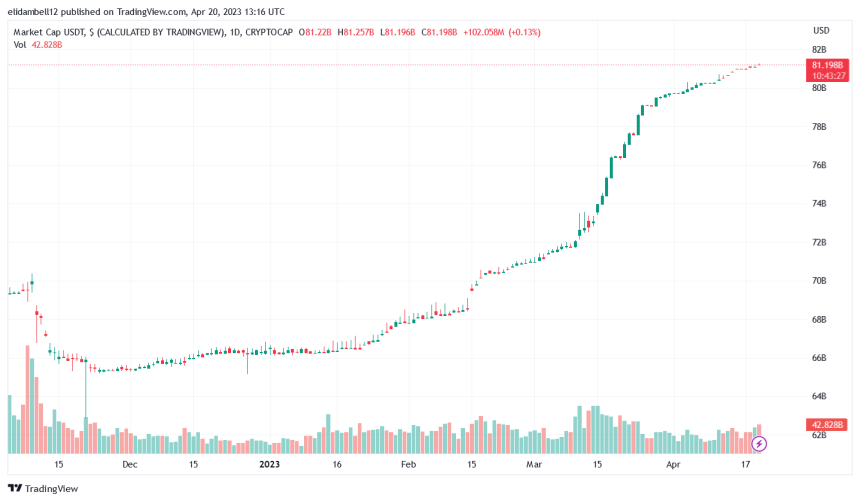 At press time, the total market capitalization of all stablecoins stands at $132 billion, an over 20% decline. More so, stablecoins occupy 10.4% of the total crypto market cap, which has fallen by over 50% from its peak. 
The top 4 stablecoins account for nearly 90% billion of the overall stablecoin market cap, with USDT dominating the chart. Although BUSD and USDC's decline affected the broader stablecoin market, the news brought more shine to USDT. As a result, USDT's supply dominance has increased by over 60%.
Moreover, the Tether printer appears to mint more this year, adding $15 billion to the stablecoin's supply. That has pushed Tether's supply to 81 billion USDT, nearly equaling its May 2022 all-time high of 83 billion USDT.
Stablecoin Market Improves While Cryptocurrencies Turn Bearish
Although BUSD and USDC's supply shortage is significant, over the past month, other stablecoins increased supply. That includes the Pax Dollar (USDP), which saw a 40% increase in circulating supply since the start of April. The increased USDP minting pushed its circulating supply above 1 billion.
USDP isn't the only stablecoin that witnessed an increase in circulating supply. Gemini Dollar (GUSD) also did, even though its supply is only a speck in the overall stablecoin market share. This stablecoin witnessed an over 12% increase in supply to $440,000 in the last month.
Despite the total stablecoin market share falling from its previous peak, it recorded a slight increase of 0.06% in the last 24 hours. But the global cryptocurrency market cap has declined by 1.36% over the past 24 hours. 
The crypto market has met a correction over the past 48 hours after several weeks of a bullish uptrend. At press time, the two chief cryptocurrencies, Bitcoin and Ethereum, are trading bearish. 
Meanwhile, most stablecoins are green today, with USDT, USDC, and BUSD trading at a 0.01% price increase over the past 24 hours.
Featured image from Pixabay and chart from Tradingview