Crypto land is healing slowly, Stellar doing well, Tezos getting hammered
The weekend bottom seems to have been found and markets are holding just above it at the moment. There has been no clear indication of a recovery as total capitalization has inched up only marginally over the past 24 hours.
Bitcoin has held the $6,400 support level and has made 2% on the day to climb to $6,480. Volume has jumped from $4 to $6.6 billion which is a bullish signal for BTC. The same cannot be said for Ethereum which is still languishing around the $320 level, its lowest this year, and showing no positive signs at all.
The altcoins are predominantly in the green at the moment, clawing back a little from those massive dumps over the weekend. Once again it is Stellar that is showing the most gains when markets start to bounce back. According to Coinmarketcap XLM is up 7% on the day to $0.238, and it has weathered this storm much better than its brethren. Stellar has regained all losses over the week to trade slightly higher than its level this time last Monday. It has made 30% on the month and is up 5% against BTC on the day to 3740 satoshis.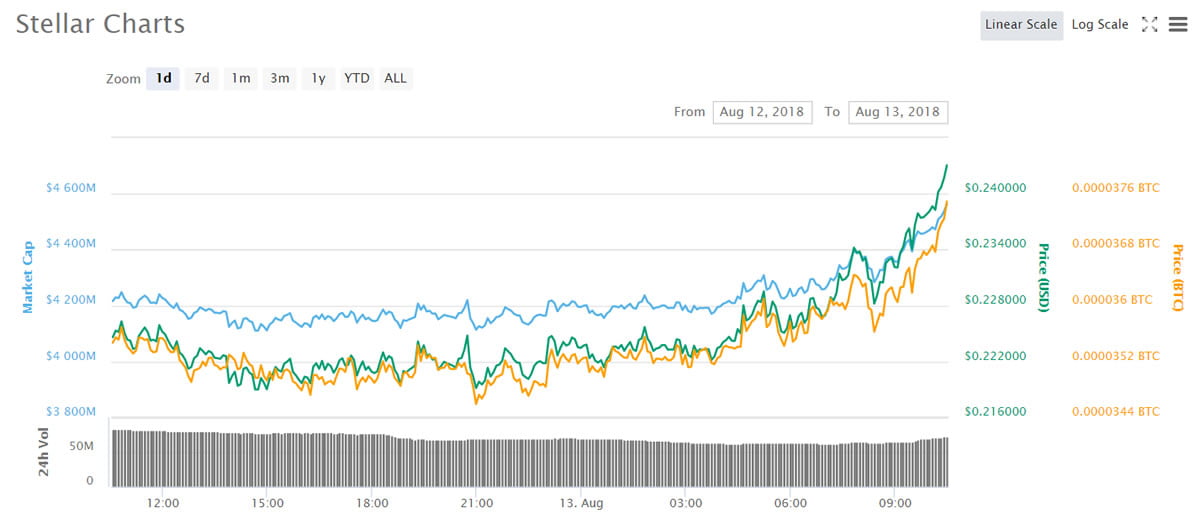 Other altcoins in the top ten are only showing very small gains on the day. Looking further down the list Iota and Nem have made a couple of percent back but the rest are still flat. Tezos has been battered once again dropping another 9% today to trade at $1.44. OmiseGO is also in pain as is Decred and Zilliqa with further losses on the day.
In the top one hundred Peercoin is making the biggest move with a 34% pump at the moment. Dentacoin and Aelf have also recovered double digits at the moment. Alongside Tezos is Maidsafecoin which is also down 9%, Wanchain is also having a rough time right now, down 7%.
Total crypto market capitalization has gained 1.8% on the day to $219 billion. On the week however it has collapsed 14% to a yearly low of $207 billion on Saturday. Trade volume is up from $12 to $17 billion as traders load up on bargain basement prices. Bitcoin's market dominance continues to climb and is now at 51.2%, its highest level since December.
More on Stellar can be found here: https://www.stellar.org/
FOMO Moments is a section that takes a daily look at the top 25 altcoins during the current trading session and analyses the best performing ones, looking for trends and possible fundamentals.