Stellar's native token XLM surged by approx 40 percent in just three days of trading, becoming one of the best top-cap cryptocurrencies based on week-to-date returns.
The XLM/USD exchange rate reached $0.178 on Tuesday, its best level in three weeks, after showing signs of decoupling from XRP, a rival cryptocurrency issued by San Francisco-based Ripple Labs. Its founder Jed McCaleb left in July 2013 to launch Stellar. The two cryptocurrencies have stayed positively correlated ever since.
XLM Breakout Ahead?
The proximity slowed down substantially after the US Securities and Exchange Commission sued Ripple for allegedly selling illegal securities. Traders dumped XRP in panic in December 2020, which dragged along XLM lower as well. As of December 23 last year, XLM/USD was trading at $0.11.
The pair also plunged amid worries that the SEC would also target Stellar and its founders. Later, many experts argued that XLM and XRP are different altogether, a reason why the New York Department of Financial Services (NYDFS) approved Paxos Trust Company's request to use it for over-the-counter trading in 2017.
"XLM is always very correlated to XRP, which explains the massive dump over the past weeks," stated a pseudonymous analyst on Twitter, adding that the cryptocurrency looks ready to undergo a breakout move.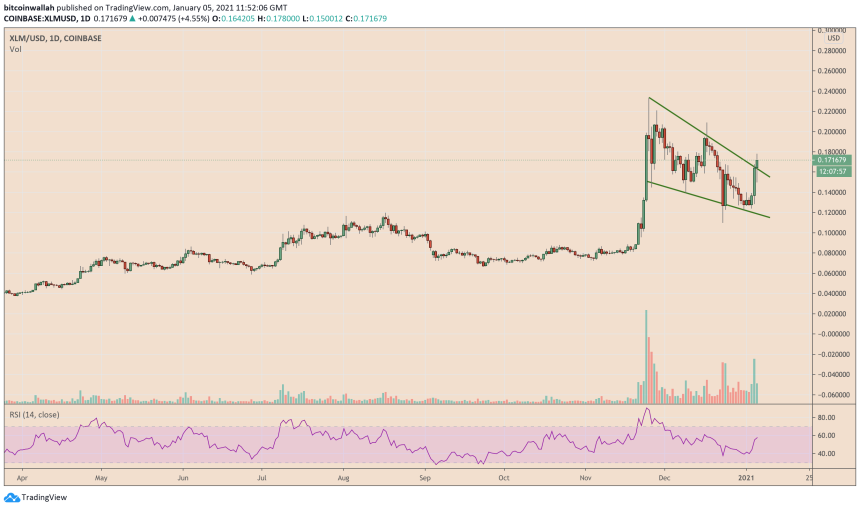 Stellar is trading inside a falling wedge pattern. Source: XLMUSD on TradingView.com
The analyst referred to a bullish reversal structure to explain his upside bias for XLM. As shown in the chart above, the cryptocurrency showed signs of breaking out of a so-called "Falling Wedge" pattern. Technically, the move should take XLM up by as much as the Wedge's height, which is $0.084.
That roughly puts the Stellar token en route to $0.25, up 50 percent from the breakout point.
Digitization Commitments
The shift from XRP to XLM also occurs as the Ukrainian government hires the Stellar team to digitize its national currency Hryvnia.
"The Ministry of Digital Transformation is working on creating the legal environment for developing virtual assets in Ukraine. We believe our cooperation with the Stellar Development Foundation will contribute to the development of the virtual asset industry and its integration into the global financial ecosystem," said Oleksandr Bornyakov, Deputy Minister of Digital Transformation for IT Development.
The extent to which XLM would power the Stellar-Ukraine project remains unclear. But the news appears enough to put traders in a jubilant mood. That explains XLM's rise of more than 30 percent in the last 24 hours.