The crypto market has been losing momentum as the price of Bitcoin (BTC), Ethereum (ETH), and Binance Coin (BNB) start trading in the red. The largest cryptocurrencies by market cap might experience further losses as macro-economic factors keep exercising a negative influence on risk-on assets.
At the time of writing, the crypto total market cap stands at $1.09 trillion after experiencing rejection at the $1.2 trillion mark. This has led to minor losses for Bitcoin (2.2%), and Binance Coin (7%), only Ethereum has been able to preserve some of its last week's gains.
Analyst Justin Bennett believes the crypto market has been negatively impacted by the uptrend in U.S. dollars. The currency saw a major push to the upside at the start of 2022 on its monthly chart and seems to be attempting to reclaim 2022 levels on higher timeframes.
This could translate into more losses for risk-on assets, such as equities and cryptocurrencies; more economic uncertainty as inflation trends higher in decades; less liquidity across global financial markets. Bennett said the following while sharing the chart below:
Expect #stocks and crypto to struggle while the US dollar is doing this. The $DXY just took out 107 on its way to 107.40. I still think we see 112-113. Be careful out there (…). The trend is your friend…unless it's the $DXY. 112-113 first, but most likely 120 in the next few months. USD up means risk assets down.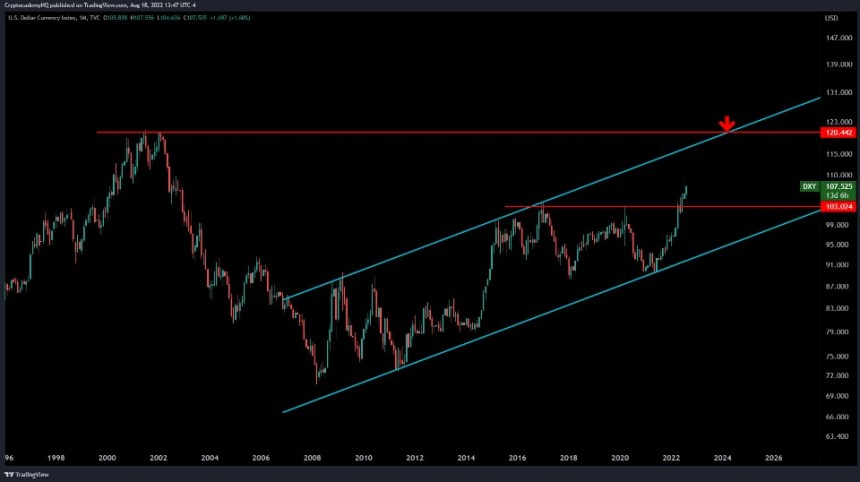 The largest crypto by market cap, Bitcoin, saw a yearly low at around $17,600. As NewsBTC reported, Fidelity's Director of Macro Jurrien Timmer believes this level is on par with the cryptocurrency's previous bottoms and expects that price point to operate as critical support.
Will Macro Economic Factors Break A Critical Support For Crypto
Using BTC's Supply and Demand models, Timmer compared $17,600 with $3,100 and $200, two major support zones for Bitcoin even in persistent downside trends. The expert said the following on BTC's capacity to see more appreciation in the long term, bullish momentum that will surely push the entire crypto market upwards:
Bitcoin's price-to-network ratio (my proxy for a valuation multiple) is back to 2014 levels. Meanwhile, its network continues to grow, roughly in line with a power regression curve.
In contrast, Bennett expects more losses for BTC's price and the crypto market. The first crypto by market cap could bottom between $9,500 to $13,500.
The expert bearish thesis is based on the U.S. Federal Reserve (Fed) current monetary policy. The financial institution is set on stopping inflation from going higher and will continue to increase interest rates, Bennett believes, to achieve that goal.
Bear market rallies are easy to identify even without a chart. It comes down to one simple question.

Is the fed easing or tightening?

➡️If easing, dips are for buying
➡️If tightening, rallies are short-lived

The fed just began tightening and isn't likely to stop anytime soon.

— Justin Bennett (@JustinBennettFX) August 17, 2022