This week, the altcoin named after an internet meme, Dogecoin, went viral on social platform TikTok. Users of the platform tried to get a hashtag challenge trending in order to pump the coin.
However, these new investors unsure if Doge is a stock or an altcoin have now learned the hard way what a crypto dump is. The over 25 % dump is likely taking them by surprise following an insane, over 100% pump.
Dogecoin Goes Viral On Popular Social Media App
Earlier this week, users of the popular social media platform TikTok began sharing videos urging other users to buy Dogecoin.
A portion of the massive, 800 million strong userbase began to listen to the instructions carefully. Users recommended buying 10,000 "shares" of the "stock" and hold it until it reaches a $1 per coin.
Related Reading | Crypto Asset Goes Viral, As TikTok Users Plan Coordinated Pump
Once it does, these savvy early investors who listened will have turned $25 into $10,000. Except Dogecoin reaching $1 is not probable, and these investors clearly have no idea what they are getting themselves into.
Users flocked to Google searching for how to buy the altcoin but referred to it as a stock or share according to Google auto-suggest results.
Dogecoin is a meme cryptocurrency first created as a joke, but this TikTok craze is very real.
In less than a week, the cryptocurrency pumped by over 140%. But as crypto investors often find out the hard way, the other side of the pump can be painful.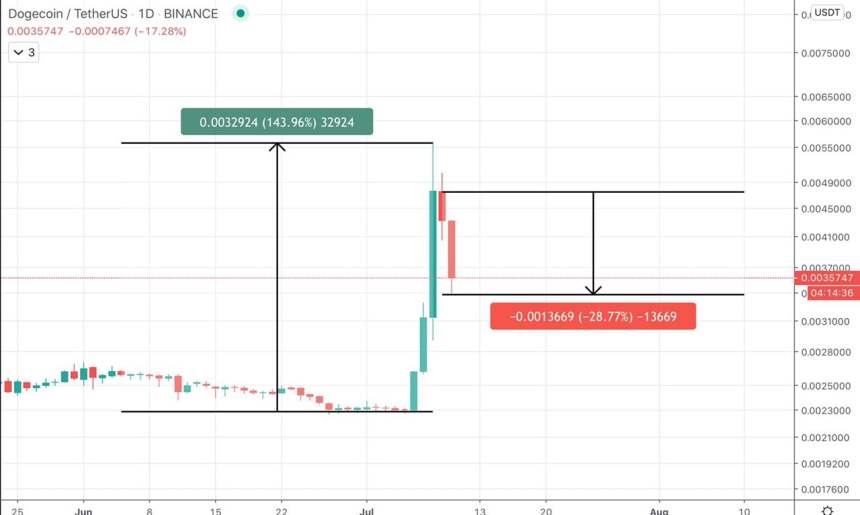 Dogecoin DOGEUSDT Daily Binance | Source: TradingView
TikTok: Is Time Up For This Crypto Meme's Insane Rally?
After riding the insane rally by over 140% these early TikTok users who recommended Dogecoin are now sitting in profit. Those who listened late, however, just got dumped on in a major way.
Although the asset rallied over 140%, profit-taking just took Dogecoin's rally down by 28%. And it may only be getting started.
Related Reading | Small Cap Altcoins Have Outperformed Bitcoin By 5x in 2020
After making that much money that quickly, these trigger happy investors may be taking profit fast. Another theory is that crypto investors long holding Dogecoin bags are now dumping on the TikTok users as price recovers. A new type of perpetual swap contract may also be to blame.
Whatever the reason, Dogecoin is now falling. The altcoin is also often used as an indicator to alt season, and it could be a sign its already over if the asset is dumping.
Making matters worse for altcoins, are sell signals setting up across the charts of major coins like Chainlink and Ethereum. The biggest crypto assets in the space often bring the market along with them when they move.
If Ethereum tanks along with Chainlink, and Dogecoin leads the dump, alt season may be finished already, and TikTok users will suffer further.