Crypto assets saw some wild swings in the day and are now trading to the upside. Risky assets are reacting to the FED's decision to raise rates by 25-basis points, and the increasing global adoption might be adding weight to the boost.
Related Reading | Expectations Of Aggressive FED Drop, Here's Why Bitcoin Could Rise To $50K
What Hikes? Crypto Reacts To The FED
The Federal Reserve just lifted rates 25 basis points, raising rates for the first time since 2018. Six more hikes are expected in 2022.
The markets have been experiencing volatility following expectations for a more hawkish FED, given the implications of the Russo-Ukrainian war, rising U.S. inflation, and increasing Covid-19 cases. In the day, the crypto market had a downward reaction first, which experts described as a fake-out, then started to react to the upside.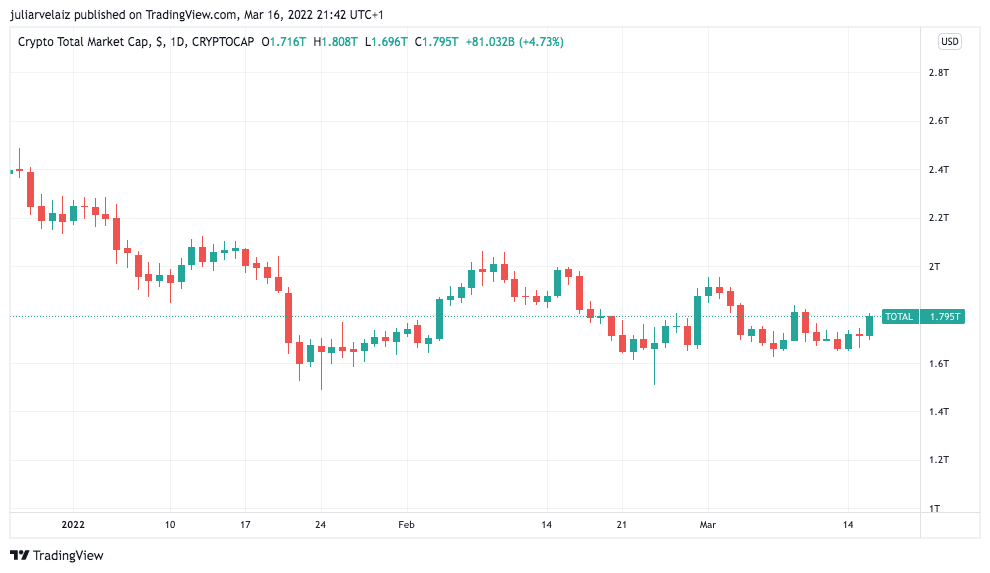 Experts expressed during a Fox Bussiness Live that the FED is lagging behind and this move will not affect the economy. They added that the FED is giving investors a plain field to do well in stocks, "not worrying about the U.S. economy."
Similarly, the light interest raise hikes are looking positive for bitcoin and consequently for other crypto-assets as well.
Chair Jerome Powell claimed that "the probability of a recession within the next year is not particularly elevated," and added, "All signs are that this is a strong economy, one that will be able to flourish — not to say withstand, but certainly flourish — in the face of less accommodative monetary policy."
As NewsBTC has been reporting, the 25bps hike scenario looks bullish for Bitcoin for its more passive stance.
As many believe the FED's dovish move comes as a late reaction and will do little to nothing to the U.S. inflation, investors might be taking refuge in Bitcoin as it has happened before. Inflation is expected to remain high at 4.3% by the end of 2022, above the Fed's annual target of 2.3%.
Keeping savings in the bank only means a loss of purchasing power, and as a result, many people might start to see Bitcoin as a hedge against these losses. Cameron Winklevoss, the co-founder of Gemini, argues that the best way to shield yourself from rising inflation is Bitcoin.
"Imagine paying a money manager 7.9% a year to do absolutely nothing with your money. That's what inflation is. It's a hidden management fee that comes with no return. Today, if you hold USD cash, you are paying the US government 7.9% to do nothing with your money. Scary."
Ukraine Signs Crypto Regulation
Amidst the Russo-Ukrainian war, crypto has also been looking like the only feasible option to the people affected by the invasion and sanctions.
Ukraine has benefited from crypto assets in several ways during the war. They have received over $108 million in donations in crypto-assets and reportedly, citizens have been able to use digital coins as a tool to safely take their funds with them when fleeing the country.
Moreover, regulatory clarity for crypto in the U.S. and other places is expected. Many politicians are taking stances in favor of cryptocurrencies, and Ukraine's president Zelensky is not lagging behind.
Volodymyr Zelensky just signed a law "on virtual assets" to legalize crypto. An official statement says that this law "creates conditions for the launch of a legal market for virtual assets in Ukraine."
"The signing of this Law by the President is another important step towards bringing the cryptocurrencies sector out of the shadows and launching a legal market for virtual assets in Ukraine."
The deputy minister of digital transformation, Alex Bornyakov, expressed that they believe "that crypto industry offers new economic opportunities. We will do our best to bring the bright new future closer as soon as possible."
This does not mean cryptocurrencies are a legal tender in Ukraine, but crypto holders are now legally protected in the country. This favorable sentiment appears to be growing amongst many politicians and governments around the world, which could turn into a rapidly growing institutional adoption of crypto.
As both Russians and Ukrainians have found themselves in need of an alternative to the traditional financial institutions, they have also sought refuge in bitcoin and stablecoins.
Besides the functional side experienced by Ukrainians, Russians could be finding in crypto a refuge from their devalued ruble. This sets a worldwide example and could end in a positive scenario for the market.
Related Reading | Leading News Outlets In Ukraine Aim To Secure $1 Million By Selling NFTs