The U.S. Commodities and Futures Commission (CFTC), in conjunction with the Federal Bureau of Investigation (FBI), has charged BitMEX with failure to prevent money laundering, as well as running an illicit derivatives trading platform.
Each of the two charges carries a maximum penalty of five years in prison for the accused.
In connection with the charges, the United States Office of the Southern District of New York has indicted four individuals. Those being Arthur Hayes, Ben Delo, Samuel Reed, and Gregory Dwyer.
Yesterday morning saw the arrest of BitMEX CTO, Samuel Reed in Massachusetts. The others "remain at large".
However, U.S. authorities believe both Hayes and Delo are in Hong Kong. Whereas Dwyer could be in Australia or Bermuda.
Speaking on the case, FBI Assistant Director William F. Sweeney Jr. gave a scathing account of what investigators turned up.
Sweeney Jr. said the accused had willfully violated the Bank Secrecy Act and evaded U.S. anti-money laundering requirements. What's more, he said one of the accused had bragged about bribing regulators in the Seychelles, where BitMEX is incorporated, for the cost of "a coconut."
"Thanks to the diligent work of our agents, analysts, and partners with the CFTC, they will soon learn the price of their alleged crimes will not be paid with tropical fruit, but rather could result in fines, restitution, and federal prison time."
BitMEX Responds to the Allegations
In response, BitMEX released a statement refuting the charges. They claim that any alleged violation of law was the result of a lack of clarity on the part of regulators.
"We strongly disagree with the U.S. government's heavy-handed decision to bring these charges, and intend to defend the allegations vigorously. From our early days as a start-up, we have always sought to comply with applicable U.S. laws, as those laws were understood at the time and based on available guidance."
BitMEX is still open for trading. The firm also sought to assure users by saying deposits are safe.
However, today has seen BitMEX users clamoring to withdraw their funds. So far, outflows from the exchange are close to 25k Bitcoin.
24,577 bitcoin has now been withdrawn from BitMEX, 65% to exchanges with the remainder to unhosted wallets. Total inflows to exchanges averaged 65k bitcoin this last week, so BitMEX withdrawals are adding 25% more liquidity already and more will come with the 08:00 UTC withdrawal

— Philip Gradwell (@philip_gradwell) October 2, 2020
J.P. Morgan Market Manipulation Results in Fines For The Bank
On charges of manipulating the precious metals markets, J.P. Morgan has agreed to pay $920 million to settle with U.S. regulators.
The firm admitted "spoofing" between 2009 and 2016 in order to influence the market in their favor.
Rather than systemic corruption, Daniel Pinto, the bank's COO, put this down to the actions of individual traders, who have since moved on.
"The conduct of the individuals referenced in today's resolutions is unacceptable and they are no longer with the firm."
However, as pointed out by @TheCryptoLark, the crimes of J.P. Morgan did not result in prison time for CEO Jamie Dimon. This, he believes, is an example of bias towards the big banks.
Remember 2 days ago when JP Morgan was caught rigging #gold markets for 8 years and their CEO didn't go to jail? Yeah, but let's throw the book at Bitmex because something something #bitcoin

— Lark Davis (@TheCryptoLark) October 1, 2020
The J.P Morgan spoofing case comes off the back of last month's U.S. government leak in which the firm was also accused of money laundering.
According to the BBC, a consortium of big banks washed $2 trillion of dirty money from the proceeds of drugs, terrorism, and corruption. This continued to happen even after being warned by U.S. officials.
The list of banks involved includes J.P. Morgan, HSBC, Standard Chartered, Deutsche Bank, and Bank of New York Mellon.
Yesterday, the price of Bitcoin closed down 2% on news of the BitMEX charges. Today sees a continuation of the downtrend. Currently, the price of BTC is $10,458.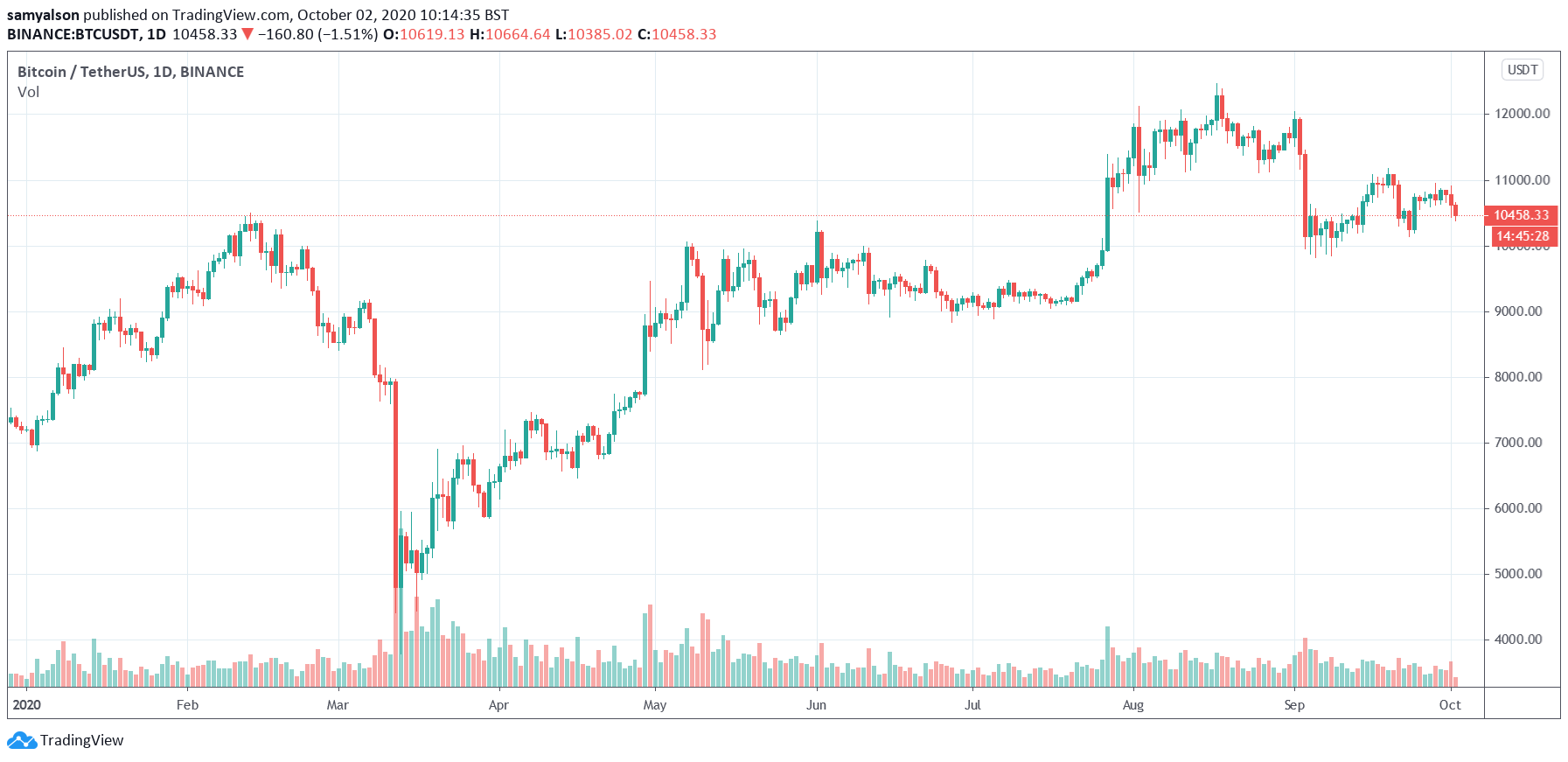 Bitcoin daily chart YTD with volume. (Source: tradingview.com)