Fantom (FTM) price decreased 22% by reaching $1.32 per coin after key personnel associated with its project announced that they were leaving.
Fantom is in deep trouble following the departure of two high-profile employees, Anton Nell, a senior solutions architect, and Andre Cronje, a prolific developer, without providing any clues about why they left.
Related Reading | Crypto Markets Slightly Recover After Weekend Decline
The Fantom cryptocurrency has seen a sharp decline in value over the past week, dropping 22% to hit lows near $1.32 on Monday, according to Coinmarketcap data. This brings their total asset value down about 60% from its peak.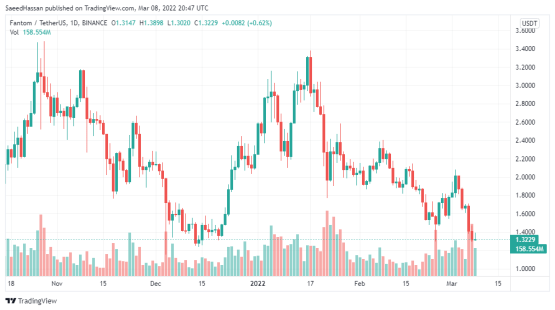 The token's peak came during January 16th, when it reached $3.3 per coin. Since then, there have been many decreases which eventually led up until now, where they're currently sitting at just $1.32 each – a reduction of approximately 60%.
With the news, the price of dozens of tokens plunged. 
The price fluctuation of cryptocurrencies has been unpredictable lately, with some Gain Others Lose. But one thing that remains constant is the importance each individual holds regarding their cryptocurrency's value- whether through trading or holding. 
Experts Reviews On The News
Raj A Kapoor, the founder of India Blockchain Alliance, said, "the price fluctuation is a response to the news reiterates just how critical an individual can be to a crypto's value." 
It was assumed that an announcement regarding this would be made soon, as Cronje deleted his Twitter account and Linkedin reflected a change in association with Fantom Foundation.
Edul Patel, CEO and Co-founder of Mudrex, believes that Cronje's exit might influence DeFi space. "We'll see sell-off initially, but it should be temporary," he said with confidence.
Patel added developers continue building on the space, and one person's exit will not cause turmoil because of their sudden change.
The analyst said Investors might press the panic button amidst recent volatility.
"The markets don't like uncertainty," said Pratik Gauri, founder, and CEO of 5ire. "Also, investors realized it may be overstretched in valuation," he added.
Gauri said many people don't know the reasons behind her sudden exit, but it will affect the price.
Fantom (FTM) Ecosystem
The Fantom ecosystem's tokens followed suit and dropped down drastically. For example, SpookySwap (BOO), LiquidDriver(LQDR ), Geist Finance, Tomb; these four prominent chains saw their prices fall up to 20%.
The volume of Fantom tokens has skyrocketed, more than doubling over the last 24 hours.
Related Reading | Yearn Finance (YFI) Down 13% Following Andre Conje's Exit
Patel from Mudrex said;
Tokens would likely bounce back because DeFi is meant to be a trustless system of finance. In which no one single person has the power to influence the system.
"A lot of other projects were dependent on Yearn and Fanton. It's a DeFi network for all of your favorite blockchains," said Gauri, "and it has over 80 DApps on there."
The data suggests that 80% of Fantom's total supply is available in the market, with its maximum cap at 3,175,000,000 tokens. Of this, 2,545,006,273 are currently circulating.
Raj A Kapoor advised hunting for better opportunities available by saying; 
One big problem with Fantom is gas pricing. The unpredictable volatility may pass, but in a crypto arena that's getting crowded, Fantom may not be worth that wait.
                Featured image from Pixabay, chart from Tradingview.com