Dogecoin (DOGE) finds itself in a curious state of limbo. As the once frenzied sell pressure subsides, the market sees the bulls hesitating on the sidelines, uncertain of their next move. 
While DOGE's price action continues to captivate the attention of both enthusiasts and skeptics alike, its current trajectory is influenced by a unique combination of factors.
Retail accumulation has emerged as a significant force, driving the coin's value amidst a backdrop of relatively low demand from whales. 
As the dog-themed digital asset navigates these shifting tides, its future remains bleak, leaving investors and observers eagerly speculating on what lies ahead for Dogecoin.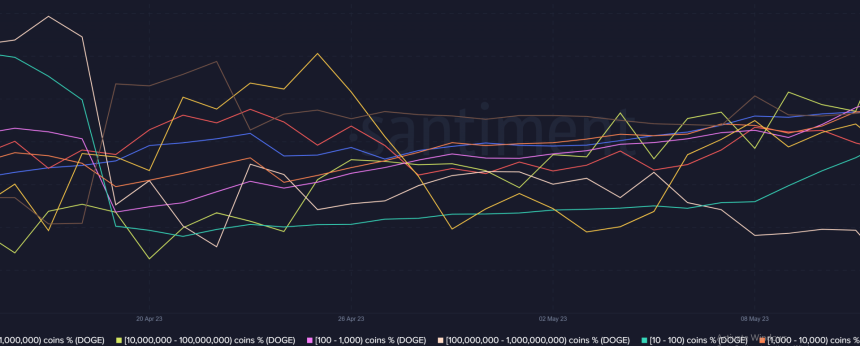 Source: Santiment
Dogecoin Supply Distribution And Market Expectations
Dogecoin's recent supply distribution analysis has shed light on the behavior of cryptocurrency holders. Since the beginning of May, addresses with smaller DOGE holdings have been steadily accumulating the meme-inspired digital currency.
This accumulation has instilled hope among DOGE holders, who anticipated a significant rally during the latest meme coin season.
Since the beginning of May, addresses with 100 million to 1 billion DOGE have been reducing their holdings. It was the second-largest group of whales overall, accounting for nearly 20% of the circulating supply.
In line with these expectations, retail traders have actively participated in accumulating DOGE in the past few days, contributing to its overall demand.
Despite its status as one of the pioneering meme coins, Dogecoin failed to secure a prominent position in the ongoing meme coin craze, which has captured the attention of the crypto community.
However, while the accumulation trend among smaller DOGE holders points to a potential rise in its value, there has also been noteworthy sell pressure originating from some of the largest whales. This conflicting market behavior has created an environment of uncertainty for Dogecoin.
Source: Coingecko
As of the latest data from CoinGecko, DOGE is currently priced at $0.072314. Although the cryptocurrency has experienced a slight setback with a 1.2% slump in the past 24 hours and a 0.1% decrease over the past seven days, it remains to be seen how these market dynamics and the ongoing supply distribution will shape the future of Dogecoin.
DOGE total market cap slightly above $10 billion. Chart: TradingView.com
Uncertainty Looms Over Dogecoin's Future
Despite recent indications of a potential shift in Dogecoin's market dynamics, it's important to note that the cryptocurrency has not yet become oversold.
While smaller DOGE holders have been accumulating the digital currency, the level of buying pressure remains low. This leaves open the possibility of bears regaining control of the market.
It's still too early to determine which direction DOGE will move in the coming days and weeks. The balance between bullish and bearish forces is delicate, with both sides vying for dominance.
While some investors are optimistic about the potential for a DOGE rally, others remain cautious.
(This site's content should not be construed as investment advice. Investing involves risk. When you invest, your capital is subject to risk)
-Featured image from Entrepreneur