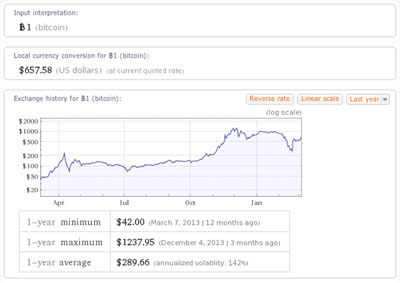 As we reported last week, computational search engine WolframAlpha has finally changed their data source to include accurate bitcoin rates. Since first integrating bitcoin and recognized it as a currency, the engine had quoted rates from Mt. Gox — which, as you're likely aware, has been facing a series of issues with their insolvency.
As such, users researching bitcoin on the site were presented with the last price before trading was halted completely, a rate of about $130/BTC. Meanwhile, at other exchanges, the going price per bitcoin was above $600.
As of this writing, WolframAlpha is quoting $657.58, and while the quotes aren't streamed realtime, it's certainly an improvement of the rates being shown before.