XRP has been closely tracking Bitcoin and the other major altcoins throughout the past few days.
Although this helped provide it with some slight momentum earlier this week, it has since caused it to see some notable downside, as the aggregated crypto market is beginning to show some signs of weakness.
That being said, there are a few technical factors that seem to indicate that the cryptocurrency is well-positioned to see significant upside in the near-term, potentially allowing it to surge higher in the coming few days.
One particular analyst is pointing to its ability to reclaim the level where its first bull ran first began against its BTC trading pair, as well as its break above its 200-day moving average.
The confluence of these factors may allow XRP to break above the resistance it faces between $0.30 and $0.33, with a clear move past this price region potentially leading it up to fresh highs.
XRP Declines as Aggregated Crypto Market Flashes Signs of Weakness
At the time of writing, XRP is showing some signs of weakness as it is trading down over 8% at its current price of $0.27.
This is around the price at which it has been trading throughout the past few weeks, but it still marks a significant decline from weekly highs of $0.31 that were set around this time yesterday.
These highs were set in tandem with the movement seen by Bitcoin, during which the benchmark crypto rallied up to highs of $12,200 before it lost its momentum and slid to lows of $11,100.
This decline created a headwind for the aggregated crypto market, causing Ethereum, XRP, and most other altcoins to shed nearly all of their recent gains.
Analyst: The Token is Poised for a Significant Near-Term Breakout
While speaking about XRP's current technical situation, one analyst explained that he is still bullish on the cryptocurrency despite it showing some signs of weakness.
He even notes that he is anticipating it to see significantly further upwards momentum in the near-term, explaining that it has reclaimed multiple crucial levels.
"XRP Primed for a massive breakout. Has reclaimed where it's first bull run ever began on the BTC pair + 200D EMA. Has reclaimed the 17′ resistance + 18′ support with today's close. The bull run has started. Unfortunately I sold off a bit into $BTC yesterday. Huge close 2day," he said.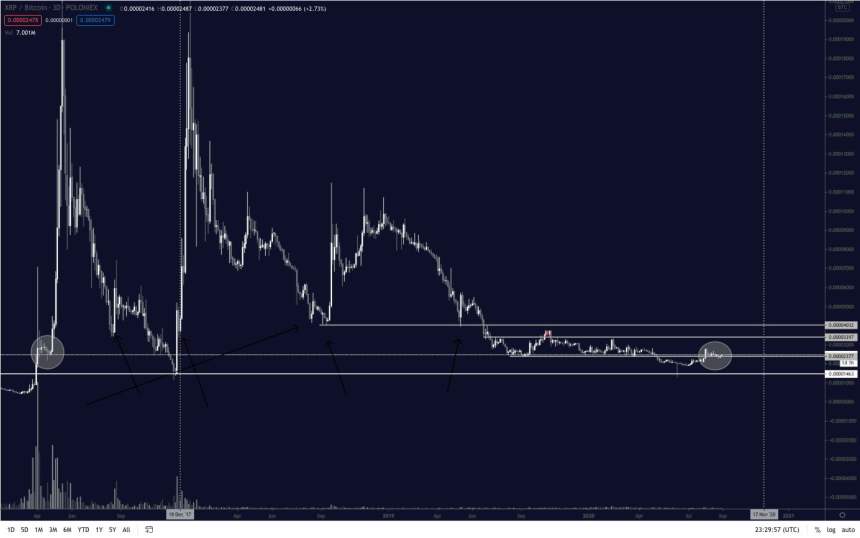 Image Courtesy of Pentoshi. Chart via TradingView.
Unless Bitcoin's descent continues creating significant headwinds for XRP that push it below these levels, there's a strong likelihood that further upside is imminent.
Featured image from Unsplash.
Charts from TradingView.