Yearn.finance (YFI) has surged higher in the past 24 hours despite stagnation in the price of Bitcoin and Ethereum. The leading cryptocurrency, which is in the top 30 by market capitalization, is up 20% in the past 24 hours, having moved from around $25,000 to $29,000 as of this article's writing. It is one of the top-performing altcoins in the top 100.
Yearn.finance (YFI) May Have Room to Rally After Retaking $29,000
Analysts say that YFI has room to move higher after gaining 20% in the past 24 hours.
One trader shared the chart below on September 26th. It shows that while YFI remains far below its all-time high, it recently secured a crucial exponential moving average that it held above during the previous rally.
YFI doing so, the trader explains, suggests that the ongoing rally has "juice."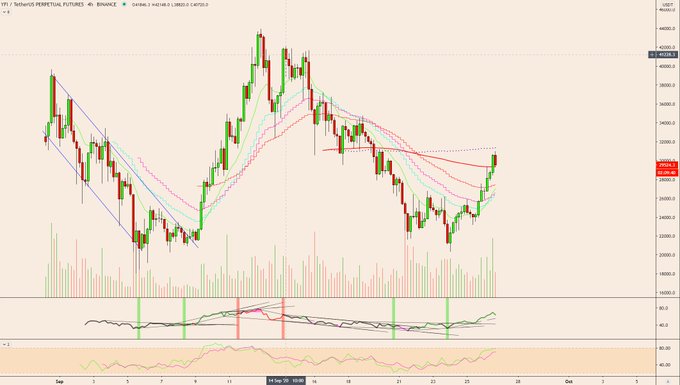 Chart of YFI's price action over the past few weeks with analysis by crypto trader Crypto Krillin. Chart from TradingView.com
All of DeFi Set to Grow
Analysts think that all of the DeFi space is set to grow. With Yearn.finance acting as a pseudo-index for the entire market, YFI will benefit if the rest of the industry gains traction.
Andrew Kang, the founder of Mechanism Capital, recently touched on the topic of DeFi's growth in an extensive Twitter thread.
Kang explained that the fundamentals and technicals of this industry suggest that DeFi is poised to move higher. Mechanism Capital previously came out with a report stating that YFI could hit $250,000-350,000 in the coming years assuming a bullish discounted cash flow analysis.
On DeFi as a whole, Kang explained:
"In terms of new funds entering, I'm aware of at least a dozen that have recently raised or just finished raising. Many of these intend to play in the public secondary markets. Unclear how much gets deployed over what timeline… In terms of DeFi activity growth, TVL continues to advance parabolically after a small dip even in the face of price stagnation indicating more assets moving in. For both public and private DeFi projects, the innovation and pace of development continues forward at a blistering pace – even faster than it was two months ago."
Spencer Noon, head of DTC Capital, has echoed the optimism. He recently said that the fundamentals for Ethereum and Defi "have actually never looked better."
As aforementioned, YFI stands to benefit from a further recovery in DeFi.
Featured Image from Shutterstock
Price tags: yfiusd, yfibtc, yfieth
Charts from TradingView.com
Yearn.finance (YFI) Just Surged 20%: Moving Averages Show More Upside Is Likely