Yearn.finance (YFI), the darling of the decentralized finance (DeFi) market, has surged 21% on the day. It is continuing to show strong momentum following a DeFi marketwide resurgence.
There are several reasons behind the recovery of YFI. First, the project has announced major product updates and partnerships. Second, the DeFi market's rebound is causing major tokens to rally. Third, YFI was extremely oversold in the recent pullback.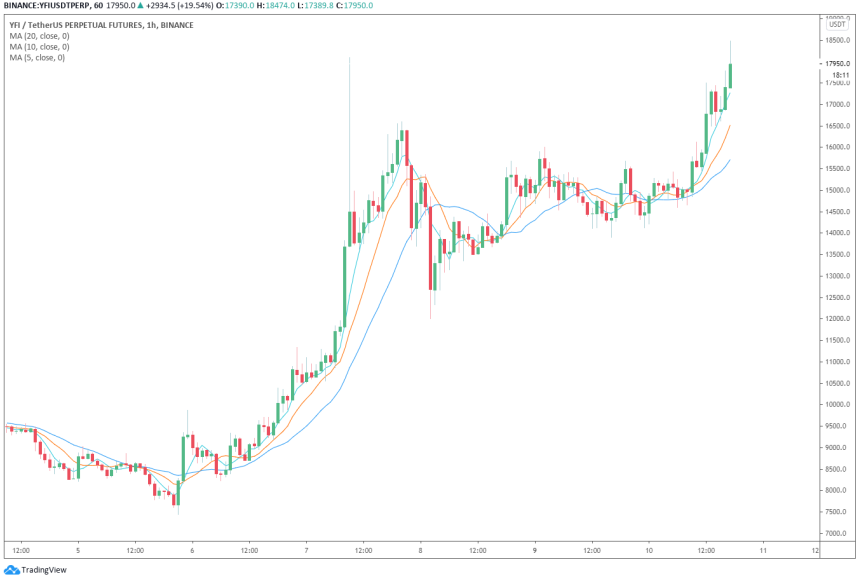 The 1-hour price chart of Yearn.finance (YFI). Source: YFIUSDT on TradingView.com
YFI Sentiment Strengthens as Price Rises Amid High Profile Yearn.Finance Product Launches
Yearn.finance is a popular DeFi protocol and platform amongst cryptocurrency users, primarlily due to its vaults.
The yVaults allow users to earn yield on their cryptocurrency holdings by staking them with relatively low risks. There are always risks with DeFi, particularly smart contract risks. But compared to smaller DeFi protocols, the risk is comparably lower with the yVaults.
The Yearn.finance developer community is expected to ship out v2 yVaults, an upgraded version of the existing vaults.
A pseudonymous developer for Yearn.finance known as "banteg" wrote:
"YIP-51 has passed, v2 vaults fee structure has been approved with 99.74% for the change. Yearn is moving to no withdrawal fees, 2% management fee and 20% performance fee."
New products and the v2 vaults could lead the total value locked, or the amount of capital deployed on Yearn.finance, to increase. This is likely behind the improving market sentiment around YFI.
Undervalued and Oversold When it Hit $7,000s
From September to October, the DeFi market saw a capitulation-like correction. Major DeFi tokens declined anywhere between 30% to 80% since their peak on September 1.
YFI declined to the $7,000s at its lowest point on November 5. It was extremely oversold based on technical indicators at the time, which made it attractive for new buyers.
When YFI hit its bottom, profits started to cycle out of Bitcoin to altcoins from buyers looking for higher-risk plays. The timing was ideal for a YFI uptrend following a massive decline within two months.
A Short Squeezed Happened After and Momentum is Rising
On November 6, right after YFI reached its lowest point in the past three months, it surged 39% in 24 hours.
A large short squeeze occurred, which squeezed out sellers who were aggressively shorting YFI at a low price.
A short squeeze occurs when the overwhelming majority of the market is shorting or selling, and the asset price goes up. This causes a cascade of position adjustments, often leading sellers to market buy their positions.
The price spike was likely a short squeeze because the funding rate of YFI across futures exchanges were heavily negative. Following the initial short squeeze, real momentum started to form.