Yearn Finance's governance token YFI logged further losses in a bearish correction that saw its price crashing by 25 percent this week.
The YFI/USD exchange rate plunged more than 5 percent on Friday to an intraday low of $22,030, further foreshadowing its 328 percent price rally between November 5, 2020, and December 3, 2020. So it appears, traders who profited from the YFI's volatile upside move decided to secure their profits. The sentiment pushed the token's per-unit prices lower.
A "Conglomerate" in Making
That happened despite the growth of Yearn Finance's decentralized finance (DeFi) ecosystem. The distributed yield aggregator entered strategic mergers with SushiSwap (a decentralized exchange), Pickle Finance (a liquidity pool for top stablecoins), CREAM Finance (a lending platform), Cover Protocol (a smart contract insurance protocol), and Akropolis (a distributed pension fund).
It appears likely that the Yearn Finance partnerships prompted traders to increase their bids for YFI, a token that earns its value from the project's revenue and voting features. Its price, thus, rallied exponentially in a month-long timeframe, only to see the upside momentum getting overheated. As a result, the YFI/USD retraced lower this week.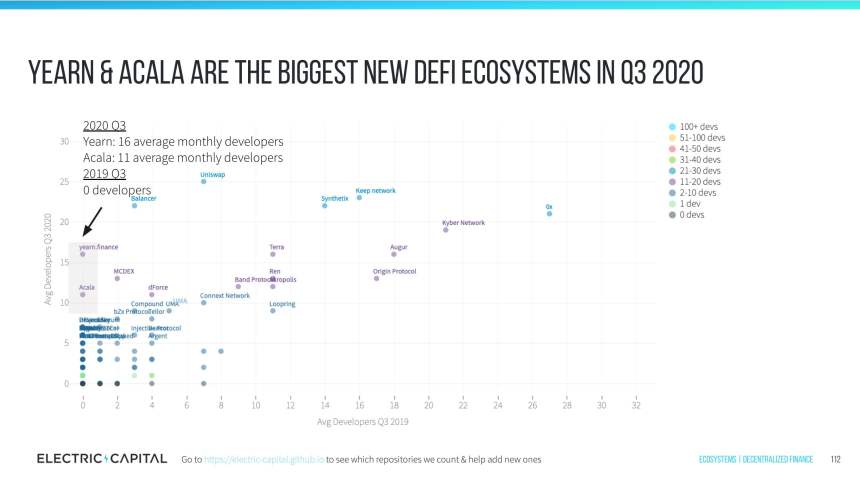 Yearn Finance ecosystem is among the most emerging ones in the DeFi factor. Source: Electric Capital
Having said that, the correction appears like a natural response to an unstable momentum growth. However, it does not take away the Yearn Finance's long-term growth outlook, now that the project is emerging as a conglomerate in its own right.
"In short," stated Messari researchers Ryan Watkins and Jonathan Otto in their recent note, "while Yearn, the protocol, is a coordination mechanism for efficient capital allocation, Yearn, the ecosystem, aims to be a conglomerate of symbiotic financial protocols that increase the capital efficiency of DeFi as a whole."
"The greater the capital efficiency in DeFi, the greater the opportunity for Yearn to scale its operations," they added.
YFI Price Outlook
Yearn Finance is looking to become the DeFi industry's centerpiece for capital allocation if everything goes correct. And at the heart of the protocol's growth is adoption for YFI, a token that is now falling due to psychologically-induced technical setups.
Indeed, YFI/USD has now confirmed that it is pursuing a Head and Shoulder trade setup. Traders believe the pattern is bearish — because it typically sends the price lower by as much as its maximum height. With that logic, YFI/USD is now looking to extend its 25 percent correction move by another 30 percent. That brings its price target to approx $15,200.
Yearn Finance looks to fall towards $16K if the corrective sentiment sustains. Source: YFIUSD on TradingView.com
Meanwhile, support levels around $21,600 attempt to hold the price from keep falling. If they succeed, then YFI could retrace its rally upward, hitting $28,555 first before it makes a move towards $30,000 — and eventually its record high near $44,000.