Yearn Finance's governance token YFI was trading lower on Wednesday as its short-term charts warned about a growing bearish divergence.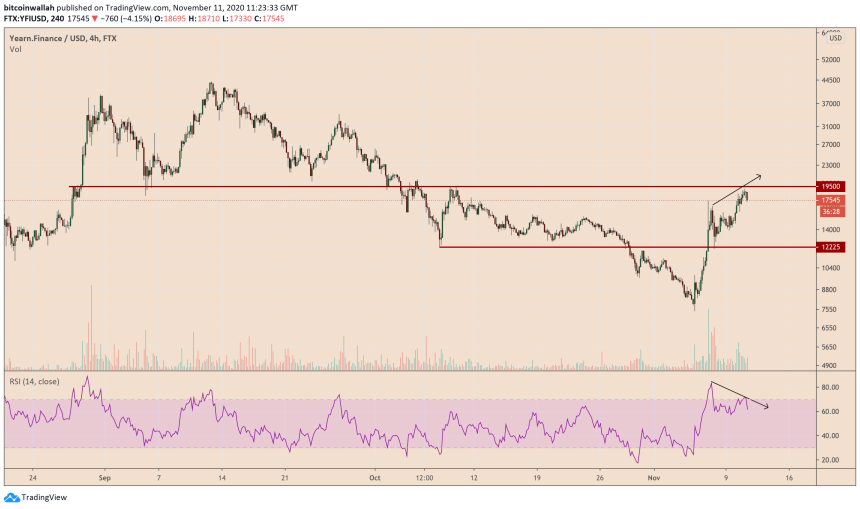 Yearn Finance's bearish divergence, as spotted by Calm Trader. Source: YFIUSD on TradingView.com
The said oscillator, first spotted by a pseudonymous analyst, showed the YFI price moving upward against a falling Relative Strength Indicator. Traders agree that a deviation between a bullish price and a bearish momentum typically leads to downtrends. The analyst built his bearish analogy on the same cue.
"This bearish divergence is a barrier to hold the swing trade [from $15,300 to $18,000] anymore," he stated. "[I am] closing the trade."
The Bitcoin Factor
The comments also came as YFI/USD rejected an uptrend above $19,250 during the Wednesday session's early hours. The pair fell prey to growing selling sentiment near the said level. It effectively corrected lower by almost $2,000, plunging by as much as 10 percent into the European session.
Bitcoin inches back towards $16,000. Source: BTCUSD on TradingView.com
The correction further coincided with a recovery in the Bitcoin price. BTC/USD ascended by as much as $403, or 2.64 percent, just as the YFI/USD slipped. The proximity between the two events showed a short-term inverse correlation between Bitcoin and the Yearn Finance token.
The flagship cryptocurrency gained an edge against almost every leading altcoin, according to the 24-hour adjusted readings fetched by Messari. It showed that the capital sitting in altcoins was shifting back into the Bitcoin market.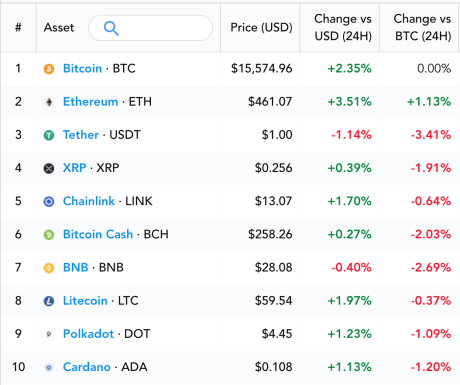 Bitcoin performance against top altcoins in the last 24 hours. Source: Messari
BTC/USD itself faced the prospects of hitting bears as it attempts to close above $16,000. If it fails to do so, traders might end up selling it at a local high to seek shelter in altcoins – all over again.
Yearn Finance Outlook
As the altcoin-Bitcoin correlation looms over the YFI uptrend, the latest report shows that Yearn Finance has more reasons to grow its market capitalization other than its correlation with a consolidating/bearish flagship cryptocurrency.
Data service IntoTheBlock suggested that institutional investors fueled the YFI's latest price rally. It presented evidence in the form of large transaction volumes. They grew from $34.93 million on November 3 to $133.72 million as of November 10.
"YFI has benefited from [institutional money], as the crypto-asset is up [by] 86% over the last 7 days," stated IntoTheBlock. "By tracking on-chain TRX >$100k, we can confirm that they have increased by 282% in the same period, reaching $133.72m yesterday."
An analyst targeted a $20,000 short-term valuation for the Yearn Finance token based on its technical outlook. He had spotted YFI/USD in a bullish continuation pattern confirmed by a Symmetrical Triangle.