Yearn Finance's governance token YFI resumed its uptrend on Friday as traders assessed a high-profile investment into its asset management protocol.
On Wednesday, crypto firm Polychain Capital increased its exposure in the YFI market after buying another 141 tokens. According to Messari, the hedge fund had purchased 329 tokens last month, a move that gave it control of 1.6 percent of the total YFI supply, amounting to almost $8.5 million at this writing time.
Bullish Outlook
The news prompted traders to increase their short-term upside bets in the YFI market. The YFI/USD exchange rate was trading at $17,781, up 16 percent on an intraday basis as of Friday. The pair's gains also came as a part of a technical rebound that started last week when trading at $9,933.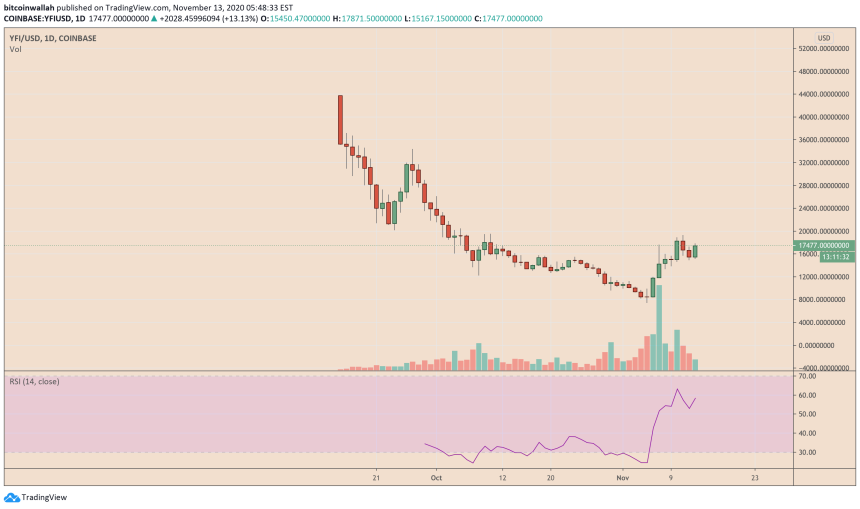 The Yearn Finance token shows signs of bottoming out. Source: YFIUSD on TradingView.com
Crypto marketplace OKCoin noted that institutional money flew into the decentralized finance sector, citing a wider rebound across the tokens representing distributed lending, asset management, and oracle platforms. YFI, added OKCoin, was a top beneficiary.
The token governs Yearn Finance, a protocol that maximizes yields on users' deposits by finding the most-profitable liquidity pools for them. It started at a $30 valuation in July but rose to as high as $44,000 in September 2020.
But the tropospheric levels did not last long — YFI slipped by almost 80 percent amid a sequence of negative press coverages (read here). Nevertheless, the newly found bottoms also brought opportunities to crypto funds like Polychain Capital to purchase YFI at lower rates.
Presently, hedge funds like Three Arrow Capital and Framework Ventures are holding YFI in their investment portfolios.
Yearn Finance Expansion
YFI's bullish prospects come from Yearn Finance's attempt to expand into service sectors beyond asset management. They include insurance, venture financing, decentralized exchange, lending, and stablecoin products.
Meanwhile, a string of upcoming features, such as lower fees, support for Ethereum 2.0—YFI is an ERC20 token—and the purchase of decentralized options has raised the demand for the Yearn Finance tokens among speculators and funds alike.