Yearn Finance beat Bitcoin in the race to claim $20,000 all over again.
The protocol's governance token YFI surged to $20,770 during the early Tuesday trading session. Its move upward brought the price up by 178.42 percent from its early-November nadir, confirming the beginning of a strong rebound that followed an 83 percent crash.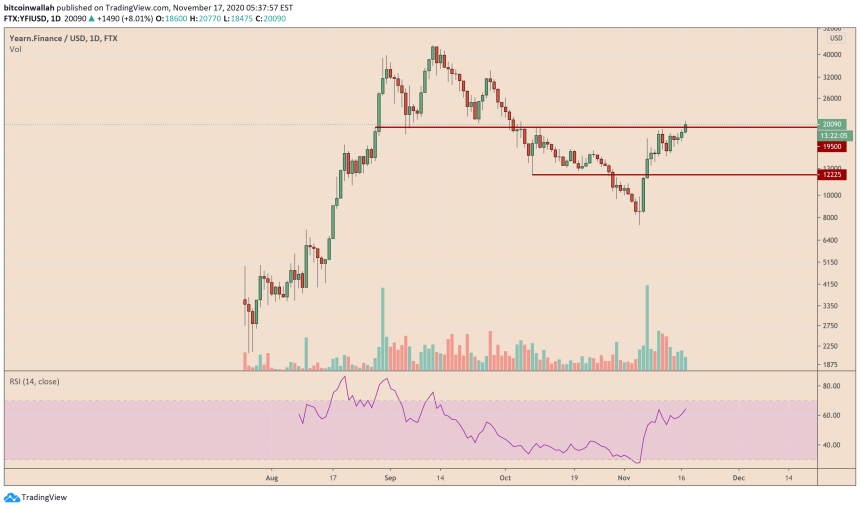 Yearn Finance is trading almost 50 percent lower than its record high. Source: YFIUSD on TradingView.com
The YFI's revival rally followed the decision of PolyChain Capital, a crypto-enabled hedge fund, to purchase almost 2 percent of the new YFI supply in two rounds of trading. It also appeared as Yearn Finance approved a new improvement proposal following a three-day voting round.
YIP-54
According to Yearn Improvement Proposal 54 (YIP-54) listed on its official website, the upgrade allows community members to quarterly audit expenses related to hackathons, security audits, grants, bug bounties, and wages.
YIP-54 also enables a newly-formed "Operations Fund" to "buy back YFI or other assets at its discretion." The proposal intends to allot more utility features to YFI, thereby making it an attractive investment as Ethereum's ETH. Angel investor Jason Choi commented:
"[In my honest opinion,] [YIP-54] is a better model than buy and burn as it 1) introduces actual buy demand for token and ties [the] value of the platform to value of the token, and 2) creates skin in the game for contributors as part of op funds will be in native token now."
Yearn has earned about $3.4 million in fees in the last four months.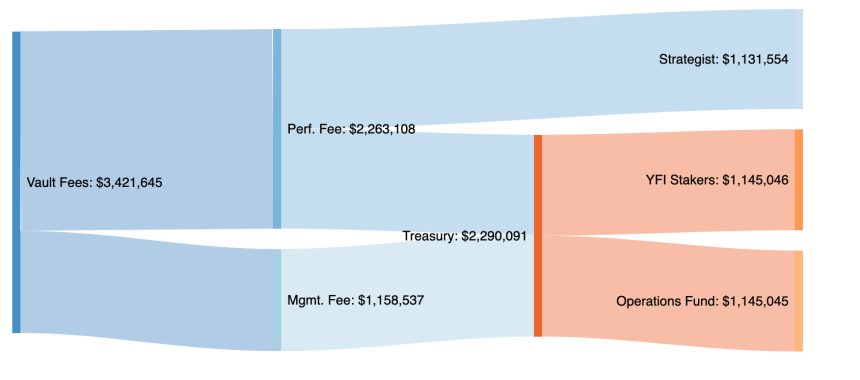 Yearn Finance reward distribution plan. Source: Official Website
The governance also proposed launching a long-term vesting plan for investors looking to lock their YFI tokens in Yearn vaults for an extended timeframe. The feature may come in the next improvement proposal.
What's Next for YFI?
The prospect of more use-cases, coupled with long-term yield strategies, could increase investors' appetite for YFI. Meanwhile, about $1.1 billion in ETH is leaving the UniSwap liquidity pool on Tuesday, which could pave its way into the Yearn Finance vaults.
"It looks like most ETH being pulled out is being converted into stable coins, so we might see some other protocols get some love ( $YFI, $AAVE, $CRV, $REN) as the money moves around," noted market analyst Jacob Canfield. "Watch for TVL (total value locked? increases over the next 48 hours."
YFI's technical narrative is also showing a bullish outcome so far, as agreed by many analysts.
$YFI looks like it's about to explode from this perfect ascending triangle. ?⬆️? pic.twitter.com/2SWiXyvldb

— Alex Saunders ???‍? (@AlexSaundersAU) November 17, 2020
The YFI/USD exchange rate was $20,220 at the press time.