YFI reached an all-time high this Thursday as the total value locked on its parent protocol, Yearn Finance, grew to over $676 million.
Investors continue to pour capital into the yEarn, a smart contract that allocates those funds into the lending projects with the most attractive yields. Meanwhile, YFI acts as a governance token for the Yearn Finance protocol. The token works as a staking asset that enable its holders to vote on the Yearn project's overall direction.
YFI Ballistic
The YFI/USD exchange rate opened in mid-July at a humble $38. Nevertheless, the pair's sudden jump to above $1,000 in early August started a new wave of buying sentiment. As of Thursday, it had hit $13,767, its record peak to this date.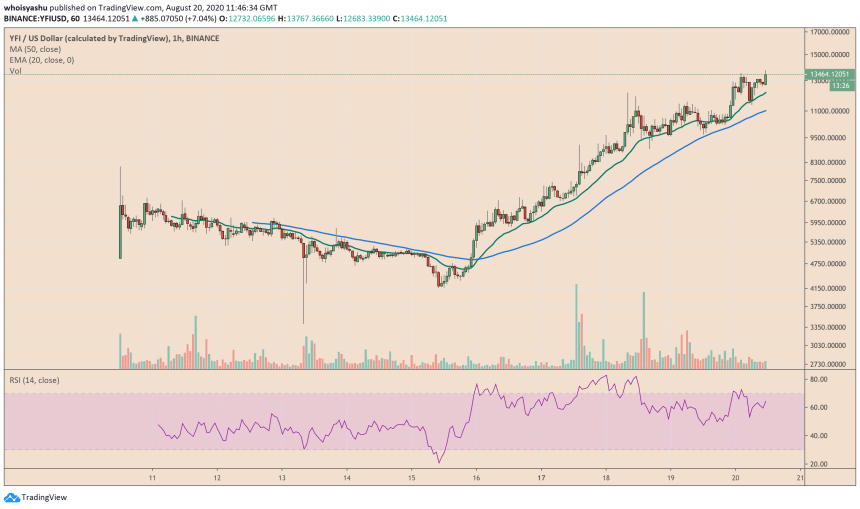 Yearn Finance chart on TradingView.com shows YFIUSD in a parabolic upside move.
According to the most common theories, the surge in the YFI token followed a hype surrounding the emerging decentralized finance projects. Traders who are looking to cash on the so-called DeFi craze spot cheaper tokens and pump them. A crowd follows the upside action to buy the same cryptocurrencies at higher highs.
Almost all the DeFi tokens that entered trading before YFI are sitting atop humongous profits. The Yearn Finance cryptocurrency, therefore, is merely cashing on the wild craze.
Part of traders' overly bullish bias towards YFI also comes from their love for scarce tokens. YFI's total supply stands at 30,000. At the same time, the DeFi hype ensures a mindlessly booming demand, leading the price of YFI exponentially higher.
Total value locked inside the Yearn Finance smart contract. Source: DeFi Pulse
That is despite the Yearn Finance founder's warning about the YFI's lack of value. Andre Cronje stated in his introductory post that the token is "completely valueless." But the advice so far has fallen on deaf ears. YFI continues to break records, even as it becomes the first altcoin to beat the benchmark cryptocurrency Bitcoin in terms of market pricing.
More Gains Ahead
Trading circles are already predicting an extended bullish move in the YFI market. Major holders include Framework Ventures, which is now in the Yearn Finance to earn staking rewards. A notable cryptocurrency analyst tweeted earlier Thursday that he sees YFI at $15,000 based on the supply-demand factor alone.
"Imagine buying Bitcoin a month ago at $2k and it shooting up to its current $12k value," said Josh Rager. "Everyone would die for that opportunity."
There's also a word of caution against Yearn Finance's unaudited status as a smart contract that is holding hundreds of millions of dollars worth of cryptocurrency tokens. The project last week fell victim to a bug that put its $750 million TVL at risk.
"If the bug had put that TVL at risk it would've been extremely detrimental to DeFi and the Ethereum ecosystem on a similar scale to the DAO hack," noted data aggregator firm Messari.
Investors are venturing far out on the risk spectrum, willing to put millions into an untested project to capture maximum returns, it added.