According to the website 99bitcoins.com, to date, Bitcoin has died a total of 341 times. The most recent report of Bitcoin's demise came from The Felder Report, less than two weeks ago, in which former Bear Stearns analyst Jesse Felder wrote:
"Ponzi schemes can work out great for early adopters. But that doesn't make bitcoin, in any shape or form, a good investment or even a store of value, especially for those late to the game. And, for that reason, I can't get behind it the way I would get behind what I perceive to be uncommon value in the stock market or a true store of value like gold."
At the time of publication, BTC was days away from making a new all-time high. This shows that, no matter what the price is doing, Bitcoin will forever be an elaborate scam for the hardline skeptics out there.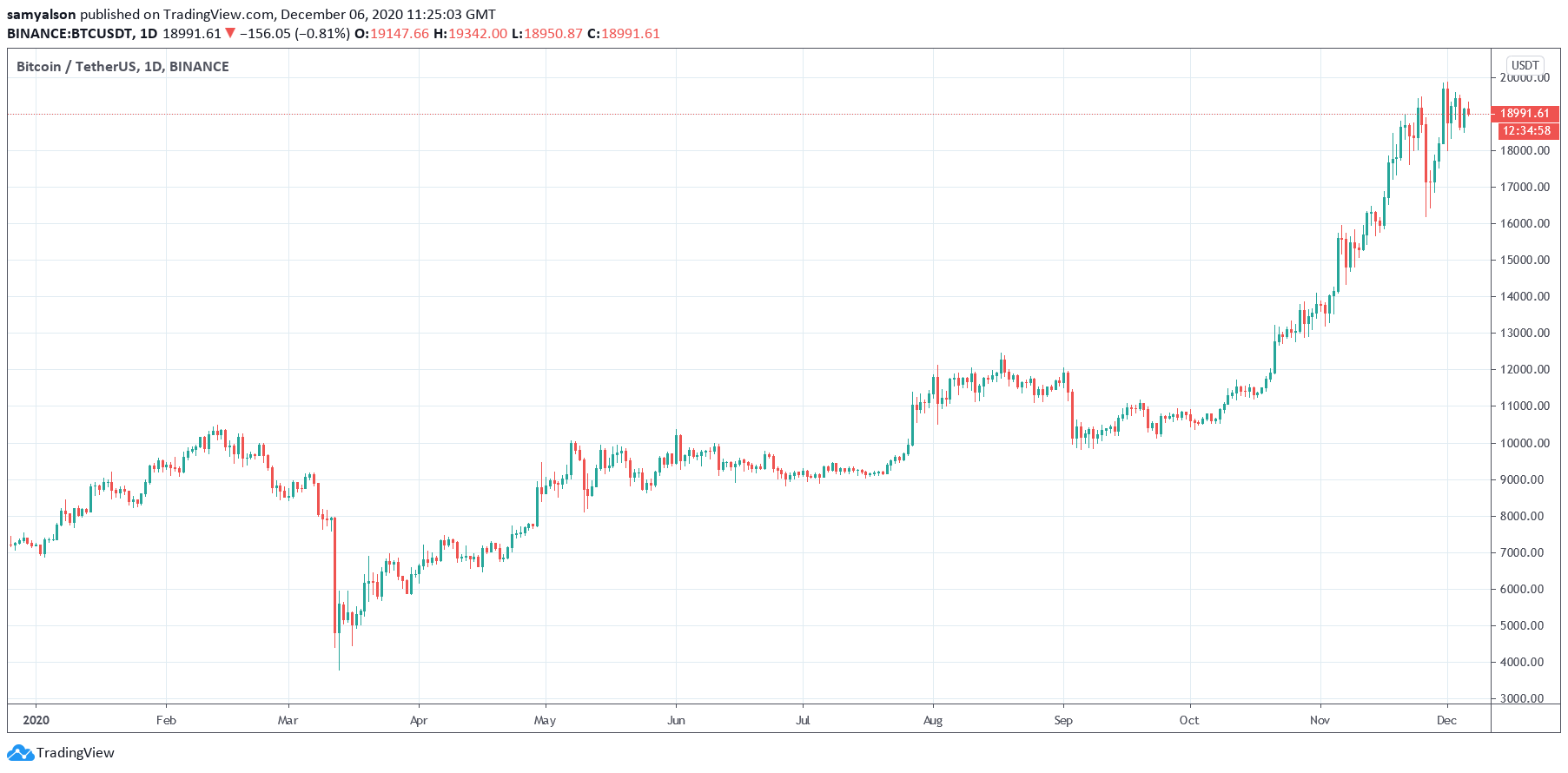 Source: BTCUSDT on TradingView.com
Then there are those who, in light of recent price moves, have reconsidered their position. In some instances, this led to a greater degree of receptivity towards cryptocurrency.
A recent example of this was when billionaire hedge fund manager Ray Dalio conceded that he might be missing something about Bitcoin, as it hit $18k.
Also, JPMorgan CEO Jamie Dimon made no secret of his hostility towards Bitcoin. While he stops short of endorsing it, he has at least backpedaled on his "Bitcoin is a fraud" comment.
Based on the bell-curve pattern of Bitcoin deaths by year, with few reports in 2010, peaking in 2017 with 124 reports of death, and then falling to just 7 in 2020, it's fair to say that, over time, the arguments put forward by BTC skeptics have lost steam.
For those who remain skeptical, what will it take to change their mind?
2020 Is The Year of Bitcoin
A 170% surge fueled by institutional buyers has forced many Bitcoin skeptics to think again. In fact, 2020 will go down as a pivotal year for the leading cryptocurrency.
Crypto advocate Mike Novogratz said this is because of the extraordinary times we are living in. Right now, investors at all levels grow increasingly distrustful of fiat money.
In the past, it was fringe members of society, the cypherpunks, and the tech nerds, saying this. But now, in 2020, with respected public listed firms ratifying Bitcoin, the message carries much more weight.
As Novogratz put it, the momentum of the past 11 years has hit escape velocity.
So much so that Peter Roffman, the Global Head of Innovation and Strategy at S&P Dow Jones Indices., recently announced a cryptocurrency index, coming in 2021.
"With digital assets such as cryptocurrencies becoming a rapidly emerging asset class, the time is right for independent, reliable and user-friendly benchmarks."
Crypto purists will argue that this was motivated by fear of becoming irrelevant. But the fact remains that cryptocurrency is going mainstream.
Expectations are that the additional buy pressure will lead to further price spikes for Bitcoin.
While outlandish price predictions of $100k, or $500k, or even $1 million seem like pie in the sky from where we currently stand, there will come a price when even the most ardent skeptic will have to yield.
The sooner that happens, the sooner we can all move forward.