The crypto market has shown signs of recovery over the last week, with top coins trending to the top of their range. However, the picture could turn red in the short term for some altcoins as unlocks season kick-off.
As of this writing, Ethereum trades at around $1,900 with sideways price action in the last 24 hours. In the past week, the cryptocurrency traded in the green but has been outperformed by altcoins, such as XRP, Cardano (ADA), Polygon (MATIC), and its synthetic version Lido Staked Ether (stETH).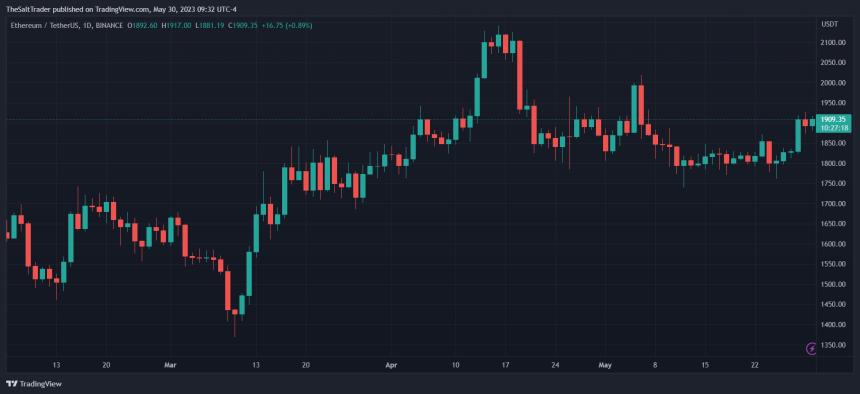 Crypto Unlocks Jeopardize Altcoin Sector
According to an analyst at Scimitar Capital, the native token for the Ethereum-based scalability solution Optimism (OP) and the native token for the Sui Network (SUI) are poised for a major retrace. These two tokens will unlock a big chunk of their supply soon.
In the past, any uptick in circulating supply for a token led to increased selling pressure in the market. The more supply, the less demand for the crypto, which translates into downside price action.
The analyst claims that SUI will see a 13% unlock on its market capitalization, meaning $67 million in the token, at current prices, is about to enter the market. On the other hand, OP is about to see a spike of over 110% in its market cap.
In other words, around $580 million in OP will flood the altcoin market; according to the analyst, the likely scenario is for the token to succumb to downside pressure:
Optimism has a massive unlock this week with over 114% of the current circulating supply unlocking. All else held equal, this means the token should trade much lower than it is now, as price is a function of supply and demand more supply = lower price.
If the price of Bitcoin and other cryptocurrencies can't push upside and break out of their current range, then SUI and OP are likely to re-test critical support. Other altcoins could face a similar fate as market conditions worsen.
Unlocks Season Hints At Bearish Pressure, But Shorting Is A Bad Idea?
However, the team behind Optimism announced an important upgrade for the network. The second layer solution will lower fees and increase performance one week after unlocking the OP supply.
There have been other announcements regarding the state of this network and its development. The analyst believes that this is part of a strategy to offset the unlocks and warn traders against shorting the token, despite the unfavorable conditions:
(…) consider who you are trading against the investors and team are incentivized to coordinate and fuck over presellers as much as possible. Do you really want to pvp vs a16z and paradigm and the optimism insiders?
As mentioned, SUI is likely also to continue seeing downside price action. Despite unlocking fewer tokens than OP, the Sui Network team has a weaker strategy to counter the potential selling event, which could provide a better opportunity for traders.
Cover image from Unsplash, chart from Tradingview