March 27, Beijing. People's Daily, joined by Blockchain Media "Zone 31", gathered 17 blockchain specialists, entrepreneurs and academics alike, for an eight-hour brainstorm session exclusively participated by an audience of 180. Known as "Link Future", the conference heard fromthe world's leading blockchain platforms, among which Achain's founderTony Cui shared his thoughts specifically on his vision of a blockchain enabled world.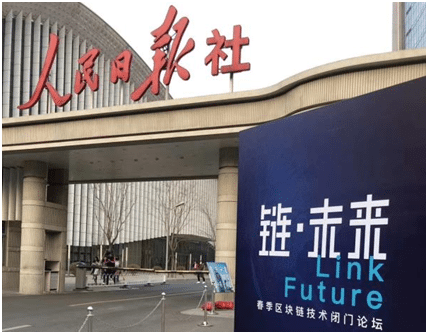 Blockchain Initiates a Brave New World
As the underlying tech of a future blockchain enabled world, blockchain technology is evolving into a new stage where blockchain is becoming ever more involved with our everyday lives. A new term was coined for this stage "Blockchain+", mimicking the term "Internet+".
As the founder of the public blockchain platform Achain, Cui highlighted his team's endeavour to create a blockchain ecosystem – the "Achain Ecosystem". During the past year, numerous Dapps have cropped up, encompassing a wide range of industries: Gaming, IOT, Credit System and many other. No Doubt there is a great potential for "Blockchain+".
"Blockchain opens a brave new world for us, it is up to us to use the decentralized technology. I have a vision where we will build the groundwork for Dapps and help to create new applications on blockchain that will grow into tools which will make everyone's lives better" Cui enthusiastically explaining his vision to the audience in the Auditorium of People's Daily Tower.
Programmer Dreams of Being a Dapp Planter
According to Cui, Achain's "Fork Theory" and "Value Exchange Protocol" will bring his vision closer to the reality. "Fork Theory" is essentially innovative forking, where the newly created forks/sub-chains inherit the original blockchain's historical data and possibly user base. Forks can also be created to suit specific needs of a Dapp or an application scenario. Each fork contains its own micro-ecosystem and ledger system.
"Value Exchange Protocol", or VEP, is a tool that the Achain development team is trying to build. TheVEP will be critical forbuilding a cross-chain communication network once it is implemented in on the blockchain and its forks. Therefore, it will create a blockchain network that maximizes information sharing and minimizes storage waste.
With these crucial technology, Achain developed its unique infrastructure support, whichoffers a vast space for flexibility and customizability. The public blockchainalso provides technical support that is made friendlier for developers of various levels of experience with the technology to facilitate their Dapps building process.
"Programmers at Achain have this dream of being Dapp Planters. They want to bring blockchain closer to the public, to every person in the world. So, they and our entire team will try our best to build new blockchain technology to help Dapp developers."Cui Added.
Blockchain Brings Organizational Structure Innovation
Blockchain not only creates a decentralized, distributed network, it also fosters a community spirit, the spirit of sharing and working together. It makes people from different countries, of different professions join their voices.  The old corporate way is like a pyramid, where you have different levels of personnel filling their slot. However, blockchain community is the embodiment equality and human free will. In this community, everyone contributes to and everyone benefits from it.
"Blockchain is game-changing in the sense of revolutionizing the way we create and exchange value. The blockchain communitymakeseach member share information and values and consequently everyone benefits from it." Said Cui.
Achain community is very active around the world, participating blockchain conferences and forums in countries such as South Korean, Japan, UAE, Vietnam, the US and many other.