The digital representation of an ape has become the hallmark of meme-based cryptocurrencies. Numerous currencies have based their narratives on this picture, making it difficult to distinguish one ape-based meme coin from another.
You may have also encountered other ape-themed social media avatars. A brief examination of the origins of the ape picture can enhance your knowledge of crypto culture, meme culture, and excellent fintech investments!
This post will examine the two most popular ape tokens currently generating market buzz. The first is ApeCoin (APE), the most popular meme token on the NFT market, and the second is RoboApe Token (RBA), which is driving the market wild with its insane usefulness and solid use-cases.
Can RoboApe Token (RBA) dethrone ApeCoin (APE) and become a leading meme token in the cryptocurrency market? Let's find out.
ApeCoin (APE)
ApeCoin (APE) has garnered popularity in the cryptocurrency world by acting as a decentralised protocol layer for community-led projects that advance culture in the metaverse.
ApeCoin (APE) encourages a democratic culture by introducing a community board, a special council of the Ape Foundation that assesses DAO initiatives and chooses the community's destiny.
The APE token also contributes to the cryptocurrency community via the Bored Ape Yacht Club (BAYC). Users may purchase and trade non-fungible Bored Ape tokens (NFTs) in this digital organisation.
These NFTs are unique digital collectables that reside on the Ethereum (ETH) blockchain and provide investors access to exclusive privileges. In addition, members of the Bored Ape Yacht Club may create pictures, animations, and graphics collectively using a graffiti board.
By promoting their Bored Apes on social media, many renowned celebrities have recently shown interest in and support for ApeCoin. Elon Musk, Justin Bieber, Neymar, and, most recently, French Montana are examples of these prominent personalities.
APE also promotes itself as a blockchain for the Web 3 economy by helping develop online entertainment, art, and gaming.
ApeCoin (APE) has a significant edge in the cryptocurrency market because it encourages innovation, originality, and exclusivity among investors, making it an excellent investment for attractive future profits.
RoboApe Token (RBA)
RoboApe (RBA) is a decentralised cryptocurrency based on the Ethereum (ETH) network, similar to Apecoin.
The platform boasts an NFT marketplace where users may buy, sell, and trade NFTs. RoboApe's NFT marketplace charges an RBA gas fee for minting new NFT tokens.
Users will be able to make and sell RoboApe trading cards with pictures and GIF memes. Once created, the NFT will appear in the wallet of the creator.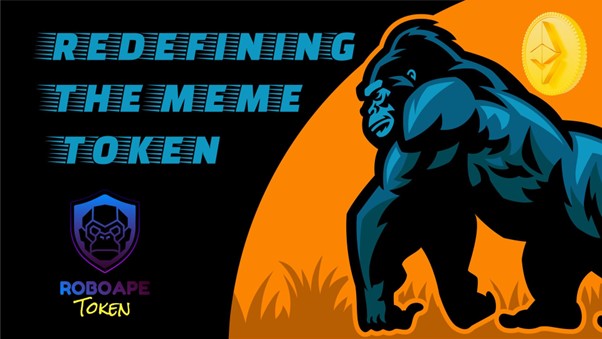 In addition, RoboApe (RBA) is a deflationary meme currency that will generate a demand for its use. By eliminating the excess supply, the value of the cryptocurrency will be stabilised, and investors will get the most return from this coin.
The platform also has the RoboApe Academy, a free educational resource centre designed to make blockchain education enjoyable and simple for its users.
Charity and philanthropy are essential to the RoboApe (RBA) protocol. Consequently, organising and engaging in philanthropic events and games will play a significant role in the ecosystem. RoboApe will offer a variety of philanthropic activities and events to make the world a better place.
Conclusion
RoboApe Token (RBA) may do better than ApeCoin due to the number of alternatives and possibilities for its consumers.
Currently, the cryptocurrency market is oversaturated, making it more difficult for new coins to stand out. However, APE is the primary example of how rapidly a currency can expand over a short period, and RBA is poised to follow in its footsteps and advance.
Links
Presale: https://ape.roboape.io/register
Website: http://roboape.io/
Telegram: https://t.me/ROBOAPE_OFFICIAL
Twitter: https://twitter.com/ROBOAPE_TOKEN
Instagram: https://www.instagram.com/roboapetoken
Disclaimer: This is a paid release. The statements, views and opinions expressed in this column are solely those of the content provider and do not necessarily represent those of NewsBTC. NewsBTC does not guarantee the accuracy or timeliness of information available in such content. Do your research and invest at your own risk.