Investment and meme coins are two words you don't typically hear used in the same sentence without irony. Meme coins have some of the most rapidly expanding and active communities in the cryptocurrency space, despite the difficult market conditions. Both in terms of value and popularity, meme coins have experienced phenomenal growth. The increase in the worth of these coins indicates the golden era of meme coins has begun, but investing in meme coins is not straightforward without perceiving their use case.
Dogetti's (DETI) coin's significance is rising and will undoubtedly keep rising in the future, as it is supported by strong fundamentals. The popularity of three meme coins, Dogetti, Floki Inu, and Tama Doge, will be discussed in detail in this article.
Shiba Inu – Newer Heights 
One of the digital currencies with the faster pace of recognition is Shiba Inu (SHIB). Shiba Inu was first released in August 2020, and since then it has expanded dramatically in popularity. The utility of Shiba Inu as a digital currency serves as the cornerstone of its ecosystem, and the project's ultimate aim is to create a stablecoin based on Shiba Inu that will function as a globalized medium of exchange. Shiba Inu (SHIB) can now be used by users of Unstoppable Domains, a decentralized domain provider, to purchase domain names.
Unstoppable Domains is a tool that offers users a decentralized name service for domain name registration. By integrating domains directly into digital wallets and decentralized applications, the technology aims to decentralize the Domain Name System (DNS). This procedure streamlines the experience overall, and eradicates the necessity of extended wallet addresses.
Floki Inu – Gets Listed in India's Largest Exchange
Another well-known meme coin related to Musk's Twitter post is the Floki Inu. Floki wants to offer users quick and simple ways to profit from their cryptocurrency. They are educating their users about their Valhalla NFT Metaverse Game, which will be a play-to-earn experience where users could be able to collect FLOKI coins and generate income. They also provide access to their hugely popular Floki University: Crypto Education platform, which gives regular people the chance to both gain knowledge and make a profit. Recently, Floki was listed in WazirX, the most prestigious exchange in India. To reach more than 700 million cricket fans worldwide, the company has formed an exclusive promotional alliance with cricket legends.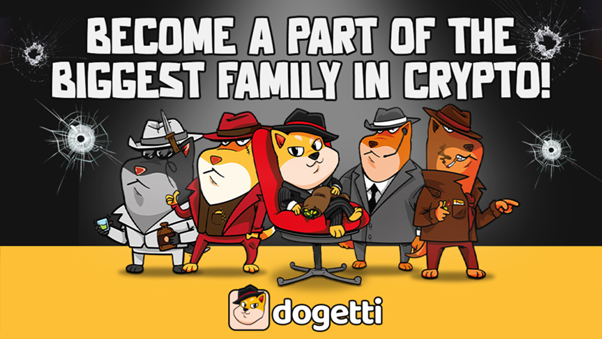 Dogetti – Don of Meme Coin
 This new dog-themed meme coin is being sold in the second presale phase. Users have already claimed 7.213 billion of the 50 billion tokens that DETI coin intends to sell, with an estimated value of $0.000291 at the time of writing. Compared to the $400k goal, Dogetti has already raised $518,197.
What Makes Dogetti Unique?
Dogetti's main priority is creating a solid, cohesive community that always puts members first, with the goal of fostering a sense of belonging and generating massive wealth for all participants.
Due to the project's alluring features, such as the introduction of DogettiDAO, it stands out from similar projects. Through its reflection protocol, it permits members of the community to produce wealth within the ecosystem. Every time a transaction is made using this Ethereum Network protocol, a certain amount of Dogetti tokens will be returned to the project and community. A total of 2% will go to holders for holding their DETI tokens, 2% will be split between liquidity, and 2% will be kept in a community-controlled charity wallet.
Additionally, Dogetti NFTs, a component of the Dogetti ecosystem, are one-of-a-kind and collectible digital assets that signify ownership of a distinct virtual companion. Users are able to adapt their Dogetti puppy – a virtual pet – by using these non-fungible tokens (NFTs).
Dogetti ones are here:
Presale: https://dogetti.io/how-to-buy
Website: https://dogetti.io/
Telegram: https://t.me/Dogetti
Twitter: https://twitter.com/_Dogetti_
Disclaimer: This is a paid release. The statements, views and opinions expressed in this column are solely those of the content provider and do not necessarily represent those of NewsBTC. NewsBTC does not guarantee the accuracy or timeliness of information available in such content. Do your research and invest at your own risk.