Bitcoin casino games have become a popular source of entertainment for people everywhere. BitZonk has introduced a superior bitcoin game that makes it easier and faster to earn bitcoin on the internet.
BitZonk doesn't have the numerous distracting games that other websites have that prevent them from focusing on their goal. It's designed exclusively for Bitcoin users. There aren't lots of complex rules or hundreds of ways to win. BitZonk offers one proven way to win that is easy and fun.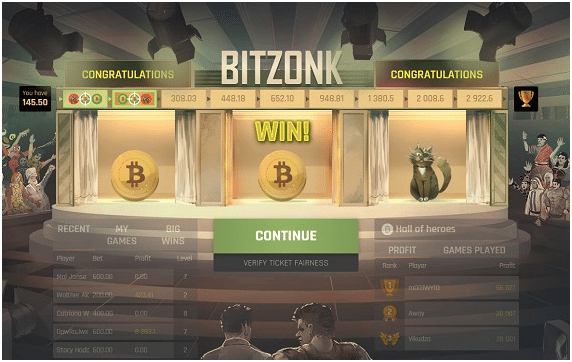 BitZonk offers beginners free coins after their login with Facebook so they can try the game out without any risk. Players can win up to 30,000 bits without any investment. All they need to do is take three simple steps to play. First, they choose their level of difficulty. Selecting easy means two of three curtains have a winning Bitcoin. Selecting hard means there's only one curtain that wins but it has a much higher payout.
The second step is the selection of one of the curtains. Third, the player looks behind the curtain. If it's a Bitcoin, the player wins and plays for a higher prize. It's that easy to win!
BitZonk is an anonymous bitcoin gambling game with a lucrative affiliation program. With more than 280,000 games played and 26,800,000 bits wagered to date, it's easy to see that players prefer the easy approach BitZonk offers for Bitcoin play.
Not only is BitZonk fast and easy, it's also totally fair. Players can check each game and verify ticket fairness after they play. Beginners can enjoy a free demo account to experience the game to see if it's the right format for them.
Some reviews BitZonk as the online equivalent of "Let's Make a Deal". This iconic show delivered the popular "Zonk" sound whenever a player chose the wrong curtain and got the losing prize. BitZonk's black cat is the game's equivalent of the "Zonk", meaning the player loses and the game has come to an end.
BitZonk sets out to level the playing field and get more people the results they want. The more they play, the greater their odds are of gaining bonuses and receiving gifts from social competitors. The game also boasts a generous affiliation system and advanced analytical panel.
The popularity of BitZonk has grown quickly due to its fast and easy method of play, options for higher winnings, and transparency as a fair online bitcoin game. Anyone from beginner to advanced should check out the easiest way to win more from using bitcoin online.