The newly launched environmentally-friendly crypto project C+Charge is on a mission to democratize the carbon credits industry and reward electric vehicle (EV) drivers for charging their cars.
C+Charge plans to build a peer-to-peer (P2P) payment system for EV charging stations. By using blockchain technology, C+Charge will reward EV owners with carbon credits (permits helping to fight climate change) for charging their vehicles.
Investors can be part of the early-round fundraising by participating in C+Charge's presale of its native token $CCHG. Apart from being an eco-friendly crypto, $CCHG is also a utility token used for payments and rewards so could increase in value over the long term.
C+Charge to Solve EV Adoption Issue
The boom in the sales of EVs is often attributed to the rising costs of gas. Yet some drivers are apprehensive to own an EV because of its high purchase price and the intrinsic obstacles that come with EV ownership, such as a lack of charging stations that are often inefficient and non-operational.
Many EV drivers travel long distances in search of an operational charging station. C+Charge's mobile app simplifies the search with its geolocation feature, assisting the driver to locate a charging station close to home.
C+Charge's app provides solutions to several problems that EV drivers face. Charging prices vary from one station to the next, and each station offers payment methods that suit its operation.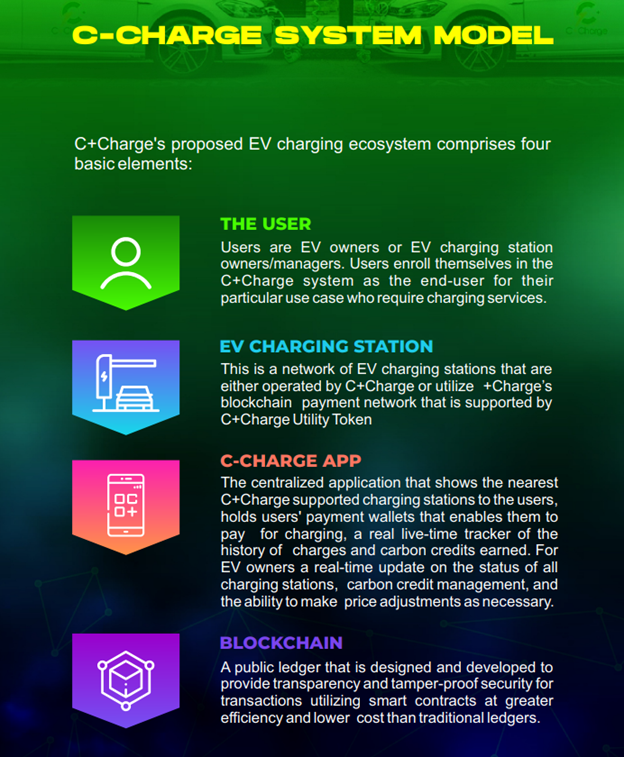 Using this ecosystem's app enables drivers to locate functional stations that provide charging prices and accept $CCHG tokens as a payment method. Besides enjoying efficient charging, drivers will be rewarded with carbon credits every time they charge their vehicles.
By standardizing the payment method and rewarding drivers for vehicle charging, C+Charge supports EV growth and aims to expedite EV adoption.
Charging stations will also benefit from incorporating C+Charge's platform into their operations because this ecosystem is the ultimate replacement for expensive point-of-sale (POS) hardware and software.
C+Charge's platform enables charging station operators to extract real-time data for each station. Other benefits of using this platform for operators include performing diagnostic tasks and enabling a more convenient management of their fleet.
C+Charge's App
C+Charge's app will be the central platform for users to manage their EV charging. The geolocated finder helps drivers locate the closest charging station, and drivers use real-time data to determine the operation status of the chargers.
Drivers will also have access to charger wait times to choose the most efficient option.
One of the app's key features is a crypto wallet, which will store all the $CCHG tokens that EV owners hold.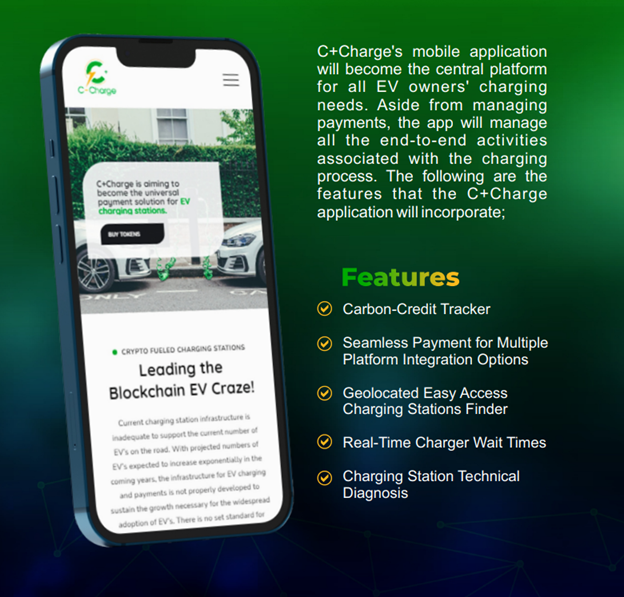 The tokens will be used for payment, and the app will keep track of the token balance. After the charging, EV owners will receive carbon credits as rewards.
The app tracks the carbon credits, and the tokens used as payment for the charging will be sent to a wallet address that will permanently remove the tokens from circulation.
C+Charge's partnership with Flowcarbon enables EV owners to collect their carbon credits as Goodness Native Tokens (GNTs). These tokens are backed by venture capitalist firms Samsung Next and a16z.
C+Charge's Case for EV Drivers to be Rewarded
Democratizing carbon credits means that C+Charge has laid a strong foundation for EV drivers to get a share of the carbon credit revenue, estimated to reach $851 billion this year.
Large corporations such as Tesla earned a significant portion of the revenue by selling carbon credits to companies with large carbon footprints, while EV drivers were excluded.
C+Charge's ecosystem makes a case for carbon credits to EV drivers and a rollout of charging stations that support its payment infrastructure.
CCGH Tokenomics
Currently in the first stage of its presale, C+Charge is offering $CCHG at $0.013. This crypto's value will increase as it enters the different stages of its presale, so investors wanting to maximize returns would benefit by being part of the early fundraising round.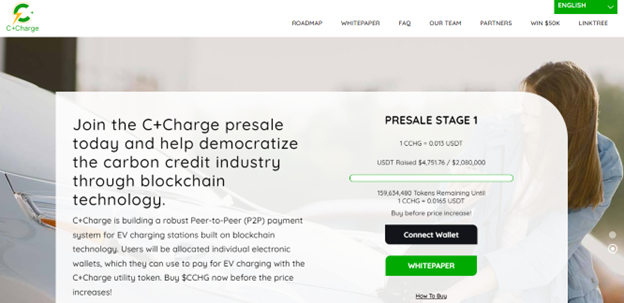 This BEP-20 token was built on the Binance Smart Chain and will be priced at $0.0165 in stage two. Stage three further increases the coin's value to $0.02, and the fourth and final stage will offer the coin at $0.0235.
Investors who invest in CCHG now will own an asset that appreciates by 80% by the end of its presale. C+Charge has set a hard cap of $6.6 million for the presale.
This project's total token supply is 1 billion, and 40% of the capped supply is allocated to the presale. Investors who don't invest in $CCHG tokens during the presale will have to then wait for the coin to list on exchanges.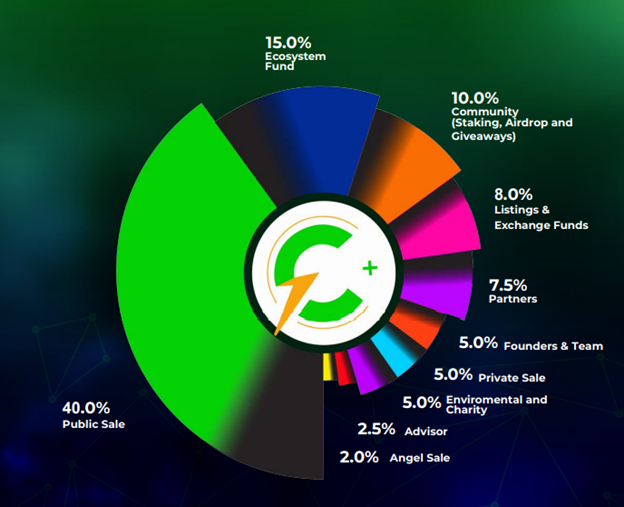 Waiting for the initial exchange offering (IEO) would mean competing to buy only 8% of the total tokens allocated to liquidity. Besides that limited coin supply, investors will be exposed to higher prices on exchanges as the rest of the market drives demand up to lock in the remaining tokens.
C+Charge's CEO Ryan Fishoff is also the CEO of American Mining Wealth Corporation, a publicly traded company in the sustainable investments industry.
SolidProof has audited C+Charge's smart contract, and the entire team has been doxxed for transparency – CoinSniper has issued a Know Your Customer (KYC) certification.
How to Buy $CCHG Tokens
Our step-by-step guide enables investors to buy C+Charge tokens conveniently.
Step 1: Download a wallet
Investors need a crypto wallet to store cryptocurrencies that will be exchanged for $CCHG tokens. The top choices are a Trust Wallet or MetaMask, which we recommend because it's secure and available on iOS and Android.
Step 2: Fund Wallet with BNB or USDT
The best platform to buy BNB or USDT coins is on a reliable crypto exchange. Alternatively, investors can use C+Charge's website to purchase BNB with a card.
Step 3: Connect Wallet
Visit the C+Charge website and click 'Connect Wallet'. Select the appropriate wallet provider.
Step 4: Buy $CCHG Tokens
Select 'Buy with BNB' or 'Buy with USDT' and then enter the number of $CCHG tokens to buy. The coins will only be claimable after the presale ends. Revisit the website after the presale and click 'Claim'.
Website: https://c-charge.io/
Social Channels: Twitter | Discord | Telegram Community | LinkedIn | Reddit |