The coin market is vast. New tokens are released every time. It can be difficult to keep up with everything that's going on. Many experts will tell you the best strategy to make money from the coin market is by focusing on the top-rated tokens. Yes, this is a good strategy. But you're not optimizing your capital. History has shown that buying small projects yields the greatest returns. Crypto gems are small projects with long-term potential. The value of these tokens usually grows over long periods, and when they do, the growth is often exponential.
The exciting thing about crypto gems is that they usually stay hidden till their big break. You need to discover them while they are still hibernating to enjoy the immense profit. This piece will reveal crypto gems that no one will tell you about, including Dogetti(DETI), Elrond and Polkadot.
Elrond Creating Strong Efficiency
Elrond is set to make a big splash in the coin market because it has impressive utility. This project exists as a cryptocurrency and blockchain. It was developed to handle numerous transactions. EGLD powers this token. Elrond has another selling point – it supports decentralized apps with smart contracts. That's similar to what you'll find on Ethereum.
This cryptocurrency relies on an innovative proof-of-stake protocol – Secure proof-of-stake protocol. This blockchain can handle up to 15,000 transactions per second. EGLD powers transactions on this platform. Transaction as gas fees are paid in EGLD, and are negligible. Many big developers are looking to use Elrond to host their projects because of its efficiency. Gradually, more people will develop an interest in the project.
Polkadot Gives Users Connectivity on The Blockchain
Polkadot has been on the coin market for some time, but it still remains largely unknown. That's surprising considering that Polkadot's utility is one of the most impressive in recent times. Polkadot may be the first token that will take care of decentralization. Its developers want to create a crypto ecosystem where every blockchain can communicate with others freely.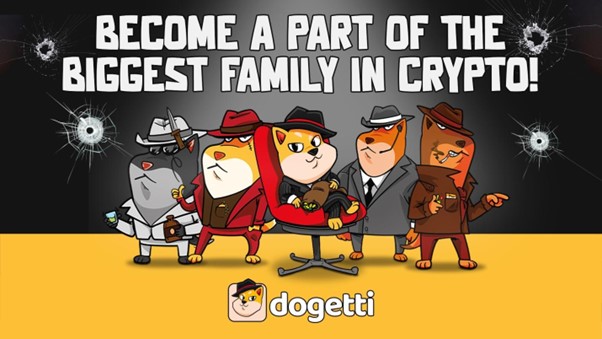 Today, we have several individual blockchains. But they are usually incompatible with one another. Therefore, features and data can't be shared. Polkadot will use its own blockchain to connect individual blockchains. It has already begun its mission. Some of the big names are already accessible on Polkadot. This project was released in 2016. And while it has taken time for it to get to where it is today, it's only a matter of time before Polkadot makes that big move. Polkadot wants to make it easier for projects to exist without building new Blockchains from scratch.
Dogetti May Just Be the Biggest Investment Choice of 2023
It's safe to say that Dogetti is still in the shadows. This cryptocurrency is yet to break out into the coin market. But when you look closely at what it offers, it's obvious there is plenty of untapped potential. It is the type of potential you'll find in a crypto gem. So, what does Dogetti offer?
Don't be discouraged to find out that Dogetti is a meme coin. Dogecoin and Shiba Inu have proven that meme coins impact the crypto market. And those are the two tokens that Dogetti is modeled after. However, Dogetti adds a different touch to its dog-themed approach. It created its symbols to look like characters from a mafia movie. Graphics are not the only way that Dogetti stands out.
This meme coin also introduces some unique utilities unlike anything seen in the meme sector. It will have its own token exchange, NFTs and DAO. What's more? Dogetti will have a family of users. Reports about this meme coin and if the token can do so much while in the shadows, more things await it.

Check Out Dogetti below:
Presale: https://dogetti.io/how-to-buy
Website: https://dogetti.io/
Telegram: https://t.me/Dogetti
Twitter: https://twitter.com/_Dogetti_
Disclaimer: This is a paid release. The statements, views and opinions expressed in this column are solely those of the content provider and do not necessarily represent those of NewsBTC. NewsBTC does not guarantee the accuracy or timeliness of information available in such content. Do your research and invest at your own risk.