Calvaria is the latest to enter the crowded NFT play-to-earn market. However, it doesn't plan on being just another blockchain game to bite the dust within a few months of going live. The project's gripping gameplay centered around the afterlife and lower entry barriers give it long-term growth potential.
A Fierce NFT Battle Card Game
Card games have a large fan base around the world. These relatively unfussy games make use of thick pieces of cardboard illustrated with different characters to take the story forward. The characters are featured with unique sets of traits and powers that give the holder a competitive edge against other players. The holder devises different gaming strategies based on her cards, to ultimately defeat her opponents and collect the maximum rewards.
However, traditional card games have inherent limitations. The most important of these is, of course, wear and tear. As a result, they go useless in a few months. Another drawback is the difficulty of keeping track of the scores. With time, card games moved online to solve these two problems. However, there were bigger challenges now. As the gamer base of online card games grew, so did the fraud, scams, and thefts.
This is where NFT card games stepped in. The blockchain makeup of NFT card games ensured the transparent ownership and transfer of in-game assets. Instant payout of crypto rewards also worked in favor of the new gaming sector. NFT card games like Sorare, Splinterlands, and Gods Unchained have played a key role in expanding the Web3 user base.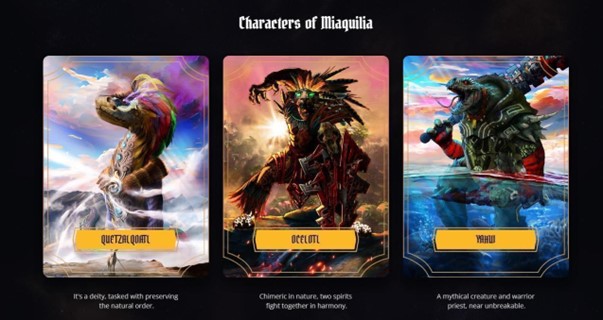 Character designs in Calvaria
While there is no dearth of NFT play-to-earn games, or NFT card games for that matter, the lack of focus on gameplay has proven to be fatal for many games in the past. That explains the surge of interest in Calvaria, an emerging battle card NFT game centered around the afterlife. Duels of Eternity, the primary game from Calvaria, introduces creative realms full of mystery and suspense. The gameplay and storyline detailed in the white paper do justice to the large creative possibilities of the theme.
Open to Both Crypto and Non-crypto Gamers
One of the key reasons why most blockchains fail to take off is their high technical and initial investment barrier. The case is the same with popular NFT card games. Over time, investors hold an unfairly large share of in-game tokens and NFTs, making it difficult for everyday gamers to try their hands on the game. The complex technical narratives, on the other hand, scare non-crypto users away.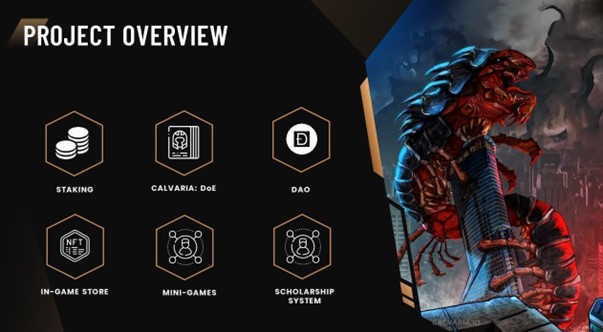 The Calvaria ecosystem
Calvaria solves this problem by offering both free-to-play and play-to-earn versions of its game. It gives gamers the option to begin their journey with free-to-play versions and get acquainted with the gaming mechanics over time. Once they are confident in their strategy, they can switch to the play-to-earn version. They need to download a crypto wallet and buy in-game assets only in the second case.
The most awaited game from Calvaria is Duels of Eternity, which features stunning character designs and a vibrant backstory. The game has got users already psyched up, as revealed by the growing Calvaria communities on Twitter and Telegram. As the roadmap unrolls, Calvaria will host seasonal competitions with large prize pools and third-party tournaments from partners and sponsors.
New Calvaria Giveaway! 💰
Calvaria Presents an opportunity to get a $100K worth of $RIA! 😍

Join the competition here and win: https://t.co/b120uwNeje

Rules: https://t.co/fCDjh8C3s5

Presale: https://t.co/6wSK6JxOKe#CalvariaGang #CryptoCurrencyNews #blockchain pic.twitter.com/uBZvVCIk4K

— Calvaria: Presale is Live! ✨ (@CalvariaP2E) October 25, 2022
How to Invest in Calvaria?
Whether you are a crypto investor or a card game aficionado, this is the best time to stock up on RIA tokens. They are currently selling for a discounted price at the presale, which is closing in on the 5th stage.
85% have been sold in 4th round! Despise the catastrophic market conditiobs we are going strong!
Join before its too late : https://t.co/6wSK6JxOKe#calvariagang pic.twitter.com/Z23TMkom1P

— Calvaria: Presale is Live! ✨ (@CalvariaP2E) November 17, 2022
RIA will have an array of use cases in the Calvaria ecosystem, including staking, governance, and NFT purchases. Calvaria's large growth potential in 2023 and beyond makes RIA one of the best cryptocurrencies to buy now.