The adult industry horizon is far from cloudless. Sites with 18+ content constantly face difficulties and limitations, despite the legality of this business.
Adult content has always been in demand. Another thing is that with the advent of the Internet and simplification of access to it, this direction of the entertainment industry significantly expanded its audience. The number of people and their ability to look at similar illustrations in magazines is incomparable with the current number and traffic of adult content viewed on the Internet.
This is confirmed by statistical data.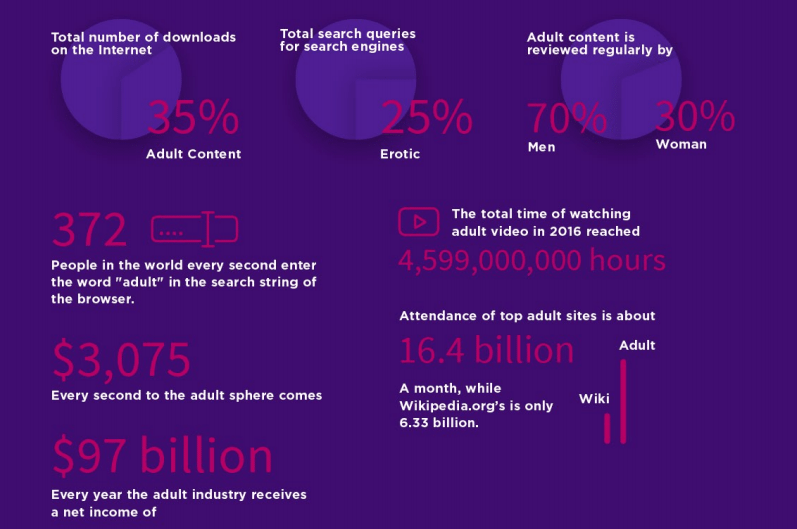 35% of all downloads from the Internet falls on adult content. 25% of search queries in search engines are about eroticism. The total adult video viewing time in 2016 was 4 599 000 000 hours. Most popular adult sites combined get 16.4 trillion visits a month. During the same time, only 6.33 million people visit Wikipedia.
It is not about morality, it is about numbers. This is a very profitable business. Every second it receives more than 3 thousand US dollars, and the annual inflow of funds is estimated at $ 97 trillion.
Naturally, businessmen making money in the industry do not understand why their business, which is legal, faces tacit restrictions. Some of them are quite easy to get around, and others require new approaches and technologies.
Access restrictions in some countries can be explained by the ban on adult content existing in their legislation. Such countries include the United Arab Emirates, Saudi Arabia, Qatar, Iran, etc., where such an approach religion-related.
Technically circumventing this restriction is quite simple, it is enough to use VPN to substitute ip-addresses.
Data security and the information confidentiality are more complex. Extra evidence of this is the data leak from Ashley Madison dating site. It's no secret that many Internet resources, not related to financial industry, are rather disrespectful to the storage of personal data of their subscribers. And the person registering on the adult site, does not know, and does not have to, how its security is organized. The visitor simply wants to be sure that his data and the content with which it is connected will not become public.
The simplest option is not to provide any personal information. But this violates the membership system and information verification about payments. The solution offered by the StasyQ project is to use the blockchain technology completely solves the problem of anonymity and unambiguous determination of the payments ownership. The platform user is uniquely identified in his own Ethereum-wallet. Its payments are also unambiguously determined.
The following problem is related to payments: Some banks block transactions to adult resources without explanation. They consider them suspicious transactions and ask to provide proof of payment. The account can be blocked during a waiting period. To unblock it one has to spend a lot of effort and time. And all this is accompanied by a restriction on the use of one's own finances. This problem concerns not only those who pay for use of the 18+ resource, but also those who receive a fee from it for their content. And the hassle in the bank with clarification of payment details become even more unpleasant.
To circumvent the banking restrictions adult platforms are forced to switch to billing systems.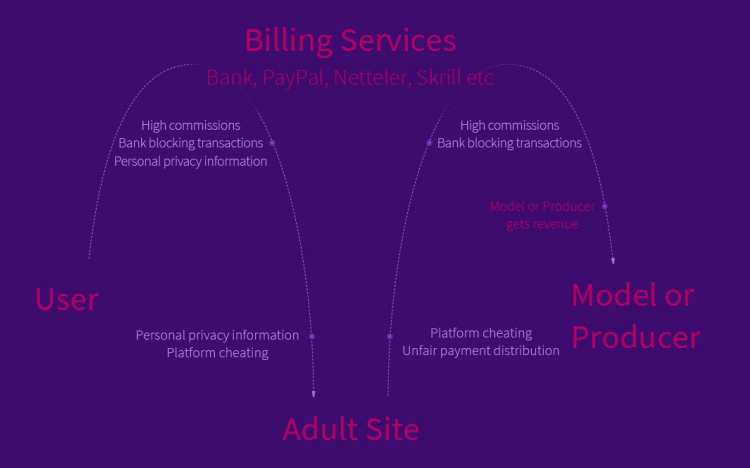 Such a solution leads to high transaction fees. In addition, billing systems operate using electronic payment systems. They also force users to provide personal information. Of course, there is much more to electronic money trust systems in terms of data security than to sites. But still, there is no anonymity here. Therefore, such a solution is only temporary.
And blockchain is exactly the solution that is needed. The use of blockchain and smart contracts guarantees anonymity, fair and timely payment for the content use and for reward payment for creating content, high speed and reliability.
The developer team of StasyQ decided to use just a such approach.
Official website: https://stasyq.io
Facebook: https://www.facebook.com/stasyq
Twitter: https://www.facebook.com/StasyQ/
Medium: https://medium.com/@stasyq