2022 may go down as cryptos Annus Horribilis. If the year was a seasonal dessert, it could best be described as an apple crumble scooped off the dashboard of a car after an emergency stop on the way to your punctuality obsessed Aunts for Christmas. It's been bad. But as the saying goes – it's always darkest before ..it's not so dark. Or something like that anyway.
As we've seen in recent days and weeks, markets of every sector are subject to cataclysmic pendulum swings of volatility. Regrettably –  the world of cryptocurrency is no different. We're here to navigate you through the rough terrain, to the all inclusive luxury 5 star hotel with massage parlour that is – a crypto currency you can quietly rely upon to yield a steady and consistent return.
Within the ecosystem of cryptocurrency exists a variety of exotic flora and fauna, one such example is the exploding interest in meme tokens. These comical hieroglyphs have been a mainstay of pop culture for well over a decade; a form of communication adopted by a tech savvy, informationally accelerated millennial and gen z class. Meme tokens entering the world of crypto is like a WWF wrestler turning up to take part in a performance of The Nutcracker. Its unexpected. Disruptive to the usual state of play. This disruption has been widely courted by a growing community of crypto enthusiasts who see the value in throwing a can of pink paint over a static off-grey monolithic financial sector.
The economy thrives on ideas, and to the perpetual denial of many in finance – on creativity. Memecoins satiate this desire. If a free market is what we believe in, the free market has yodelled loud and sonorously – memes, we want memes. Yodels tend to be short and pithy.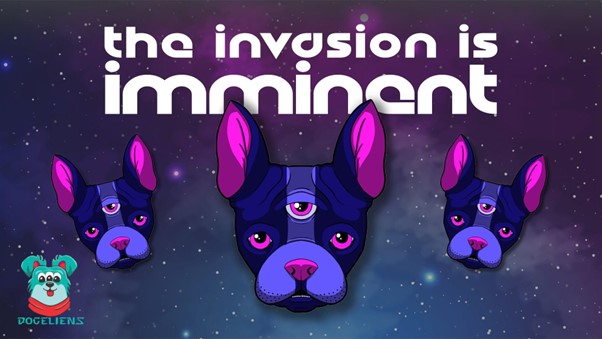 Below we shall take a look at three tokens causing the Mount Vesuvius of crypto to overflow with the sarcastic lava of an underachieving child genius equally conversant in anime culture and the works of Dante. These tokens are Dogeliens, The Sandbox and Decentraland. Below we shall take an introspective look, at all three.
Cosmic Crypto Lands On Earth
Dogeliens (DOGET) is a memecoin like no other. Its modus operandi is to take the fundamental architecture of popular memes like Dogecoin and Shiba Inu, and zip them into a utility and environmentally conscious winter parka. Dogeliens at its core is a decentralised platform with a tilt towards P2P gaming while providing an education. An education I hear you groan – yes, but not the sort of buttoned up, tired education we all remember from school. Dogeliens (DOGET) will provide a portal for which videos on Blockchain and NFT's will be regularly uploaded. In turn its community can respond and request topics and subjects for further discussion. A reciprocal relationship that finally closes the door on the teacher- pupil hierarchy. Instead we'll witness a community learning from each other, in the purest sense of a decentralised approach. These resources will be accessible through Dogeliens Academy and University programs soon to be available online.
Dogeliens (DOGET) has developed a P2P that – pun absolutely and shamelessly intended – is peerless. Adopters will be able to purchase Intergalactic pups to battle with both individually and within clans. Think Pokemon – but in space. These intergalactic canine warriors can be upgraded and improved through NFT purchases while also battling it out for additional rewards. On the planet Puptopia, its not all blood, guts and the spoils of war, it is also possible to merely take your plucky new pal out for a walk. A feature that may well appeal to the less competitively natured of us.
And if that wasn't enough, the tokens community will be encouraged to democratically vote on which charitable cause to allocate funds. Dogeliens (DOGET) appear to usher in the next wave of meme-centric crypto coins that embody an emphasis on community decision making and fun earning. That's right – it doesn't need to feel like work to increase your investment. A paradigm shift might be overstating it, but it's certainly an elbow nudge off the usual crypto axis. One we welcome.
It's All In The Game
The Sandbox is another exciting prospect with an emphasis on P2P gaming. This platform takes a three pronged approach. VoxEdit allows you to create your own three-dimensional artwork. A market place to house your creations, and ofcourse sell them. And lastly – and perhaps most excitingly – a game maker app. Does what it says on the tin. Design your own games to share and monetize amongst a larger community of keen gamers who are best placed to enjoy exactly what it is you're selling. The sandbox has been creeping up the rankings of coinmarket cap, comfortably sitting in 46th place behind our next dissection – Decentraland.
What Is Reality?
Decentraland (MANA) embraces the virtual reality revolution fast approaching. Allowing its adopters to buy and sell land on its platform, while assuming avatar wearables that let you inhabit their carefully and realistically constructed environments in a form you decide. If being the architect of your own world appeals to the creative/ narcissist in you – the Builder tool allows you to do just that..create your own world, populate with creatures, games and terrains you choose. Decentraland (MANA) looks to take the concept of Ready Player One and drag it from the mid ground into the foreground of our lives. As the boredom and fatigue of 2-dimensional social media and gaming curdles like a McDonalds banana milkshake left in the Sun all day, an immersive 3-dimensional Decentraland seems about ready to quench your thirst, without making you throw up. Get in early to smuggly tell your friends you've staked your claim on the virtual future.


Dogeliens our top pick for – galactic underdog can be purchased via its website below.
Dogeliens (DOGET)
Presale: https://ufo.dogeliens.io
Website: http://dogeliens.io/
Telegram: https://t.me/DogeliensOfficial
Disclaimer: This is a paid release. The statements, views and opinions expressed in this column are solely those of the content provider and do not necessarily represent those of NewsBTC. NewsBTC does not guarantee the accuracy or timeliness of information available in such content. Do your research and invest at your own risk.