As decentralised finance (DeFi) and cryptocurrencies continue to influence the digital world, several sectors are attempting to develop and enhance their products using decentralised technologies.
The video game business is one of the most recent industries to use blockchain technology, particularly with the advent of the metaverse. By incorporating NFT technology, DeFi, and core crypto ideas, the system has altered how players exchange in-game assets, rewards, characters, and more.
The most recent play-to-earn idea, also known as GameFi, enables players to turn their in-game assets into real-world currency.
According to a survey by Mordor Intelligence, the worldwide gaming business is predicted to be worth $339.95 billion in 2027, and the GameFi industry is likely to have a big influence.
This essay examines GameFi in-depth and addresses the effect a revolutionary gaming platform may have on the play-to-earn model and the gaming industry.
The Changing Face of Gaming Through GameFi and NFTs
Before the advent of play-to-earn (P2E) games, in-game assets lacked real-world value. This is because the developers owned and controlled all game assets.
Today, play-to-earn (P2E) games have disrupted the conventional gaming business by enabling players to earn non-fungible tokens (NFTs) by accomplishing predetermined goals while playing games, enabling players to sell and exchange their assets across multiple platforms.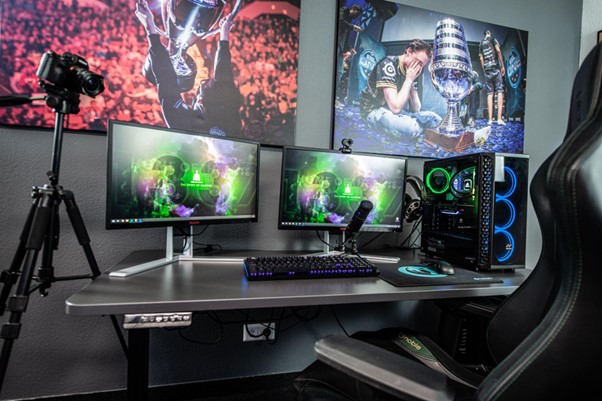 The combination of blockchain technology and cryptocurrencies has spawned NFTs, which have, in turn, spawned GameFi. This has enabled players to increase the value of their assets and generate revenue while playing their preferred games.
This was mostly due to the gross profits of prominent crypto games such as Axie Infinity (AXIE) and Decentraland (MANA) throughout the year 2021.
Axie Infinity (AXIE) is one of the most popular crypto games, with revenues of over $1 billion and more than 1 million daily active players. This GameFi application backed by blockchain enables users to keep, breed, and trade Axies digital pets.
Players spend time enhancing Axies and trading them on a specialised marketplace to gain cryptocurrency, converting them into fiat cash.
The game has gotten so popular, particularly in Asia, that some have quit their normal jobs to make more money playing it. With this cash, gamers are purchasing houses and other family necessities.
The Entry of the Disruptor: Pacman Frog (PAC)
According to its white paper, Pacman Frog (PAC) will use the decentralised autonomous organisation (DAO) structure to take GameFi to the next level.
Members of this DAO can come together and make choices in their best interests. Before implementing any modification or improvement planned for the community, the community members will be informed and vote on it!
Pacman Frog (PAC) promises that they will supply a "taking and bonding module for gaming projects to help them improve incentives for investors and liquidity providers."
The platform is mainly geared toward NFT and game developers to facilitate the development of new solutions and innovations for the cryptocurrency industry.
The Solana (SOL) blockchain was used to develop the blockchain-based Pacman Frog (PAC) game, which rewards participants in fiat currency.
In terms of efficiency, Solana (SOL) is unmatched in terms of speed. In stark contrast to Ethereum's (ETH) 15 TPS, it supports 65,000 transactions per second (TPS). Therefore, crypto specialists feel it will provide a reliable solution for new generation trading.
In addition, a multichain launchpad is one of its fundamental qualities. Beginning with the Initial Game Offerings (IGO), the system will host the Initial Metaverse Offering (IMO) and the Initial NFT Offering (INO). This will assist in the funding of high-quality blockchain games in the future.
Pacman Frog (PAC) has the potential to be the "next" Axie Infinity (AXIE) and is anticipated to revolutionise the GameFi business for all time due to its unique attributes.
Conclusion
GameFi is dominating the gaming industry. In the last year, many gaming-centric projects have been launched. As Web3 continues to grow, this most recent possible application for NFT is an exciting notion.
Since then, this increase has not slowed down. GameFi's reputation for generating rapid money in a laid-back setting is significant in its widespread popularity among investors.
Meanwhile, Pacman Frog (PAC) is undergoing a presale if you're seeking a simple way to start generating wealth over time.
Links
https://presale.pacmanfrog.io/
https://pacmanfrog.io/
https://www.instagram.com/pacmanfrogsocial/
https://t.me/PACMANFROGOFFICIAL
https://twitter.com/PacmanfrogToken
Disclaimer: This is a paid release. The statements, views and opinions expressed in this column are solely those of the content provider and do not necessarily represent those of NewsBTC. NewsBTC does not guarantee the accuracy or timeliness of information available in such content. Do your research and invest at your own risk.